Mobile App
Why Flutter Is Breaking All Trends of Application Development in 2023?
Nowadays, application development is undoubtedly one of the biggest revolutions. Brands are increasingly focusing on app development to convert leads into customers. An efficient application can make your business successful…
22 March, 2021
4 minutes read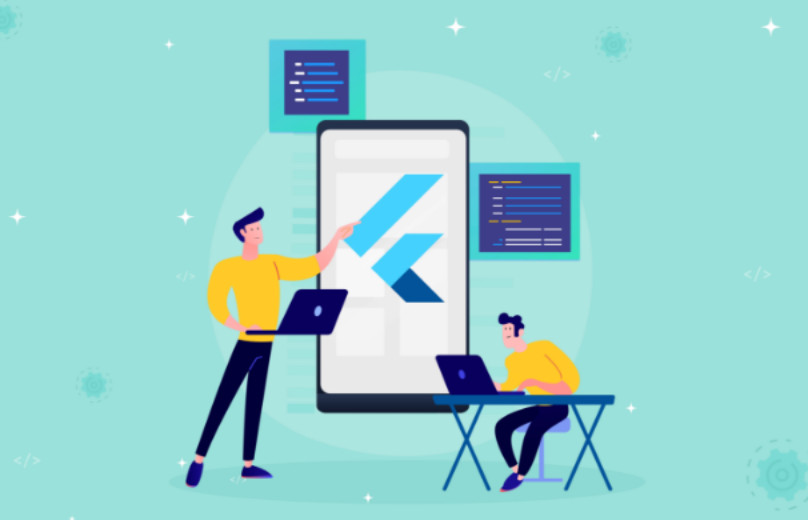 Table of Contents
Nowadays, application development is undoubtedly one of the biggest revolutions. Brands are increasingly focusing on app development to convert leads into customers. An efficient application can make your business successful and unique. However, to do that, it is imperative that you develop an app by complying with the necessary features.
In other words, the selection of the right technological platform is necessary to engage all your users. In this context, it is essential to note that Flutter is a popular UI development system that can readily enrich your mobile apps. In other words, nowadays, a majority of modern-day organizations are looking for Flutter App Development Company to design apps that can help them target users.
Released way back in 2017, Flutter can still be regarded as a newbie in the realm of app development. However, the way app developers are imposing their faith in Flutter speaks a lot about its versatility and usefulness. Also, there are no doubts whatsoever that Flutter is setting new benchmarks in the cross-platform app industry. So if you are still unsure whether you should hire Flutter Developer, go through the below-mentioned points to get a detailed insight.
Top reasons why Flutter is a development trend of 2023:
Flutter possesses the Most Advanced Widgets
One of the critical highlights of Flutter is that it comes equipped with a vast library of advanced widgets. As well all know, UI and widgets can either make or break the app development process. It has systematic categorization of all the libraries of the widgets to create an application. And as it has a vast collection of widgets, you can rely on Flutter to create applications belonging to various domains like e-commerce, health, wellness, social, etc.
Helps with the Development of Cross-Platform Apps
Unlike other app development platforms, Flutter provides you with a single codebase for iOS and android app development. So when you are hiring a Flutter app developer, always remember that the developer can create applications for iOS and Android smartphones. So as a client company, you would be in an advantageous position to avail of cost-effective app development services.
Flutter is developed by Google
In case you don't know, Flutter is an unbelievable Google SDK. This simple fact would provide you with massive relief as you are developing apps on a platform that has been developed by Google. What's more, you can also use Flutter to create native applications that can function for various types of platforms. Moreover, a Flutter mobile app Development Company relies on this platform as it comprises an improved UX.
Idea for Customized App Designs
If you want highly customized applications, then Flutter is an ideal platform you can rely upon. With the help of Flutter, you can design modest widgets or customize the existing widgets as per the demands. In other words, developers have the ability to develop robust applications with fewer endeavours.
Single Codebase is a Huge Advantage
As we all know, Flutter is popular as it has a single codebase to develop applications. And being a cross-platform tool, Flutter helps developers create apps for mobile, web, and desktop-based on a single codebase. So, developers don't have to invest time and resources to write different Android and iOS applications. So Flutter also helps with saving a lot of time.
Responsive Applications
Another reason behind the popularity of Flutter is that it helps with the development of responsive applications. Moreover, when you develop apps via Flutter, most of the time, they excel in functionality. So, even when your app traffic is high, if you have created the application via Flutter, there is no need to worry.
Usually Requires Fewer Testing
Well, the testing period of an application can be at times frustrating. Significant bugs are usually found at this stage. But when the context is about developing apps via Flutter, there is no need to worry about testing. As Flutter has a single codebase, you only have to rely on automatic tests to get the desired results. Since the testing time goes down, you can release the app in the quickest possible time.
Uniform UI across various Platforms
If you want to launch apps for various platforms like mobile, desktop, and web, Flutter would be your best bet. This is because, with Flutter, you would have access to a uniform UI platform. What's more, Flutter also decreases the need for setting various properties of UI like designing, hues, etc. The business logic along with the UI can be altered by modifying code for iOS and Android applications.
Aids with App Development
Flutter usually makes it simple to start developing smart and sustainable applications. It comes equipped with a rich set of actions on material designs for iOS apps. In case you don't know, the primary objective of Flutter is to encourage developers to experiment with innovative app designing and development techniques.
Easy Fabrication of Widgets
To emphasize user experience, the Flutter application combines various backgrounds to make your app lovable among the users. So if you are an organization looking forward to attracting customers via your app functionality, Flutter is your ideal choice.
Decreases JavaScript Bridge
In case you don't know, the applications developed with Flutter are transcribed in the Dart language. The Dart language decreases the JavaScript Bridge and is usually compiled with the help of native code. In other words, it would be a lot simpler to assemble and launch an application when compared to other app development platforms.
So as you can see, there are definitive advantages associated with flutter application development services. What's more, Flutter has a supportive community that provides constant support for improving the overall Flutter framework. Quite interestingly, we wouldn't be surprised to see that Flutter can substitute native app development.
And unlike other app development platforms, Flutter doesn't have restrictions. For instance, it supports the codebase integration of native applications easily. Let's hope that the above trends would help you to derive the importance of Flutter as an app development platform.
Flutter is the ideal platform for your business; all you have to do now is reach out to the best flutter mobile app development companies for assistance with your project. To know more, contact our firm for a free consultation with an expert. With your query and requests, a professional team will assist you.
Let's Create Big Stories Together
Mobile is in our nerves. We don't just build apps, we create brand. Choosing us will be your best decision.
Your Trusted Tech Partner!
We develop digital products that enable you to embrace innovation and unlock opportunities.
Talk To Our Experts
Subscribe
Newsletter
Get our latest blog posts, research reports, and thought leadership straight to your inbox.