Mobile App
How Does Zelle App Work & Make Money? – Business Model
Zelle is a personal digital payment network for individuals. A group of major banks created it, now regarded as one of the best peer-to-peer (P2P) payment networks. As it stands,…
27 April, 2023
4 minutes read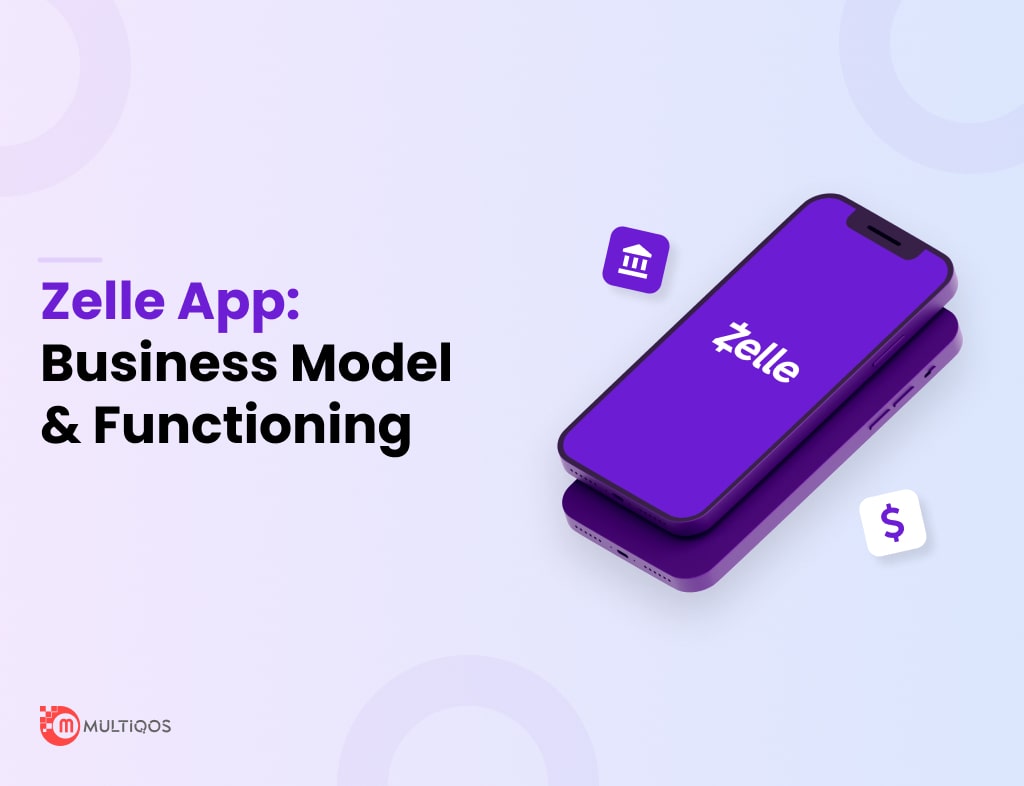 Zelle is a personal digital payment network for individuals. A group of major banks created it, now regarded as one of the best peer-to-peer (P2P) payment networks. As it stands, Zelle provides its customers with simple, quick, and secure payment options so they can easily send and receive money from family, friends, and other sources. The Zelle app users have already transacted a record $307 billion in 1.2 billion transactions in 2021 alone.
It's the right time to know more about Zelle.
What is Zelle App?
A digital payment network called Zelle enables users to transfer money from their bank accounts to other platform users. The users do not have to pay any membership fees or monthly costs because the software is currently free to use for its users. However, only U.S. account holders whose financial institutions are a part of the Zelle network can use the service. It simply takes a few minutes to finish the registration.
Having logged up, users can use the Zelle app to transfer money to their friends and family. Alternatively, the Zelle network may be accessed through the apps of partner banks like Chase or Well Fargo. To send money, a user only needs to input the recipient's phone number and email address. Usually, the money is sent in a few minutes.
Any bank can participate in the Zelle network because modern banks almost always utilize one of the latter as their payment processor. The issuing bank receives a portion of the one percent fee merchants charge MasterCard or Visa in addition to the merchant. Furthermore, Zelle routinely produces information on various topics in its Financial Education area, including money management, monetary empowerment, and more.
A Brief History of Zelle – Growth and Expansion
Zelle, known initially as clearXchange, was founded in 2011. It was created by a consortium that included Bank of America, Wells Fargo, and JPMorgan Chase to combat the increasing competition from competing payment apps like PayPal or Venmo. 
However, ClearXchange still needed to be more active and clumsier in its early stages. For instance, consumers occasionally had to wait up to five days to transfer money between their accounts. Furthermore, clearXchange could only be accessed through the platform's website or the partner bank app. This hindered the service's ability to gain widespread acclaim. Also, just a few banks were using the network, and the partner banks' attributes differed significantly. This made the user experience even more complex and more difficult for users to adapt to the service. 
All of that changed in 2016 when Early Warning Services purchased the service, formerly held by Bank of America, JPMorgan Chase, and Wells Fargo. The speed of product development finally caught up to the owners' aspirations under Early Warning's direction.
Also Read: Top Fintech Mobile Apps In The Middle East
How Does the Zelle App Works?
The Zelle app functions in a manner comparable to other e-wallet apps. So, utilizing Zelle is simple. Let's examine the procedure for how Zelle functions and generates revenue.
Step 1: Download the App
Install the Zelle app first to begin accepting digital payments. Download the Zelle app if your bank or credit union still needs to provide the service.
Step 2: Put in the Information
To access the Zelle app, enter your email address and phone number after downloading it. Ensure you have a US number before attempting to access the Zelle application. After entering the information, you will be taken to the Zelle home page to start the online payment procedure.
Step 3: Choose a Payer
With only a tap, you can now locate your friends, family, or business contacts to give and receive money. Users of this software may easily send money to anyone in the US who has a bank account.
Step 4: Choose the Sending Amount
Please enter the desired donation amount. Now that they have a Zelle app, the recipient may get money immediately into their bank account, or they can receive a notice with instructions.
Step 5: Take Pleasure in Easy Payment
Tadaaa!!! You can now make exceptionally quick and secure online payments.
Hence, this is how the Zelle app functions, enabling individuals to swap money easily while allowing the companies to make significant profits. You may now be wondering how Zelle generates revenue. Right? Remain composed and scroll down!
What Exactly Is the Zelle Business Model?
E-wallet app developers use the following business model canvas:
Consumer Segments
Merchants

Financial institutions, including banks and credit unions

Organization Customers
Value Propositions
Offer digital payments that are both cashless and paperless

Lower costs for both the banks and the customers

Swift payments that happen in a few minutes

Enable the use of other banks to send money to friends and relatives

Enable speedy payments for retailers
Channels
Zelle app 

Website

Social media

Advertising

Customer services

App Store

Google Play
Customer Relationships
Providing humanitarian assistance through its customer support service,

Gives self-service options to its users through their platform

Fosters a feeling of community by enabling immediate payments between customers and merchants.
Now that we know a little bit more about it let's look at how Zelle generates revenue.
Zelle Monetization Model: How Does Zelle Make Money?
Since it is free and does not charge users or the banks that use it, the Zelle service officially does not make any money. It is quite contrary to what you might expect from a company that boasted of processing almost half of $1 trillion in transactions in 2021.
Zelle allows them to keep their transaction costs much lower than similar services. Thus, several business observers think that Zelle exists as a mechanism for banks to avoid the fees levied on them by third-party services like Cash App and Venmo. 
In other words, Zelle is a method through which banks cut expenses by eliminating the need for third-party digital payment providers. However, the participating banks provide the platform with a base maintenance charge. 
Commission on Purchases Done Using Business Accounts on Zelle
The Zelle business account is a brand-new feature that Zelle unveiled in 2018. This account type enables companies to take payments directly from clients and levies a 1% processing fee as compensation.
Next, let us understand the difference between the top competitors of the Zelle app.
Zelle vs. Cash App vs. PayPal vs. Venmo—What's the Difference?
Zelle vs. Venmo:

Unlike Venmo, Zelle allows users to make payments straight from their bank accounts. Since money may only transfer between bank accounts, this feature restricts functionality.

Cash App vs. Zelle:

Zelle enables bank-to-bank money transactions. Cash app allows global bank-to-bank saving.

Paypal vs. Zelle:

Zelle is totally free and levies no fees for sending or receiving money. PayPal prohibits a complicated charge structure with several variables.
Conclusion
Payments and receiving payments are now simpler than ever, thanks to peer-to-peer applications. Choosing the best one might be challenging because you'll have to provide it access to your bank account. Although privacy worries might be intimidating, they will speed up transactions and ensure security if you use trusted apps like Zelle. 
You can enhance your financial business by exploring eWallet application development solutions with MultiQoS, and in 2023, you can get the best prices from our expert eWallet app developers.
Frequently Asked Questions (FAQs)
FAQ about Online Payment App Like Zelle
Zelle transactions use data encryption to safeguard users against fraudulent transactions, making them secure. Data is kept on servers that are located in safe areas.
The weekly limit for transfer over the Zelle App is 500$ if your bank or credit union still needs to offer Zelle. 
The price of creating a payment app has escalated along with the demand for P2P app development. eWallet App Development costs typically range from $50,000 to $100,000 based on several variables
Ready to Revolutionize Mobile Payments?
Discover how to develop an app like Zelle and start building your own payment platform today!
Your Trusted Tech Partner!
We develop digital products that enable you to embrace innovation and unlock opportunities.
Talk To Our Experts
Subscribe
Newsletter
Get our latest blog posts, research reports, and thought leadership straight to your inbox.