Industries
Sports App Development Guide: Ideas, Trends & Key Features
Introduction Due to the increase in the winning of sports tournaments, the fan base in the sports industry is growing. Now, because of smartphones, the number is breaking all the…
28 October, 2022
5 minutes read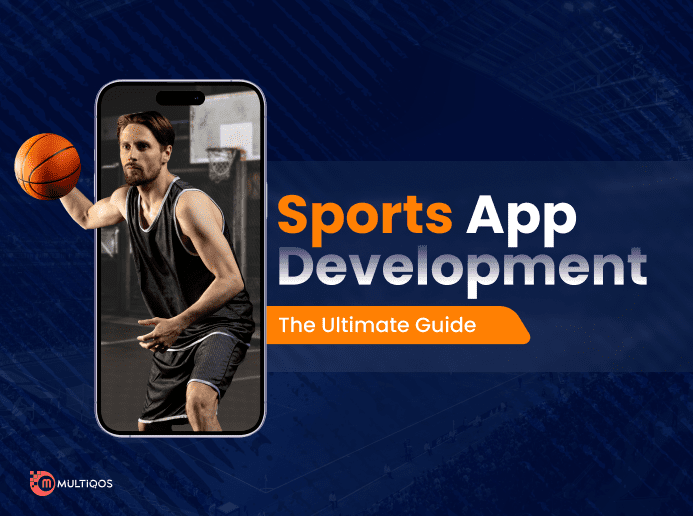 Introduction
Due to the increase in the winning of sports tournaments, the fan base in the sports industry is growing. Now, because of smartphones, the number is breaking all the bars. Most of the audience uses their device to watch live matches, sports news, fantasy gameplay, etc., helping the industry come into the limelight. You can check that the play and app store is filled with thousands of sports apps. Every Mobile app Development Company is keeping track of the top ideas, latest app trends, and features to capture the attention of sports enthusiasts.
Also, Sports app development companies are working hard to create an app that will give tough competition to all the other sports apps. Before entering the sports industry market, it is essential to understand the stats stuck to the sports enthusiasts using the sports app.
Statistics in the Sports App Industry: Market Overview
Before connecting with any sports app development company, you need to know the industry's statistics to fix all the issues the previous sports app development solution has. With the help of this, you can increase the reach of your app in a very short period.
According to the reports, users spend more than an hour on the sports app every day, which is not at all a bad time. Experts are claiming that in holidays, the timing increases by 3x. 

As per 2019 data collection, 65%% of users falling under the age group of 18-27 consume sports content through their devices.

64% of the users under the age group of 28-35 enjoyed the sports session through the device applications.

60% of the users of the age group 36-45 used this application to keep track of the latest sports news. In addition, if you want to open a sports industry, your primary target audience is from 18-43. 

According to the financial reports, it is said that the average revenue will cross the bar of US$ 3,959 million in 2022, assuring that a sports app will offer you a massive market in terms of income.
Keeping in mind the above-given information, following the sports app development is undoubtedly an excellent choice in 2023 as this market is experiencing massive growth and will have a secured future. But for creating a useful app with all the in-built features, you will need both an app development guide and a sports app development guide.
With a few mind-blowing app ideas and the latest trend in the sports industry, every expert knows that it is not easy for an individual to succeed without good ideas and trends, so the below trends will help the developers learn about the sports app development guide. Using these trends, you can easily understand the sports market briefly and get an idea of how to create an audience faster. 
Popular Sports Industry Trends
Gamification
It is one of the most trending topics that every developer wants to decode with the help of their mobile apps. It can be termed as a group of elements that gives the user positive motivation so they can stick to the gaming activity for a more extended period.
The activities consist of competing with other professionals, betting, scoring points, offering opinions on a few activities, and many more. It is also performed by allowing its users to connect to other people of similar interests and choices. We all know the craze of cricket betting during the time of IPL.

Social Media Breakdown for the Increment of Social Engagement
Not only cricket or football fans, but almost everyone uses social media platforms as we love exploring new things daily. It also happens with sports fans; they enjoy sharing their work with their audience on several social media platforms.
Die-hard fans enjoy it when their favorite star posts daily updates on their social media handle. Q and A on Instagram and live tweeting is a popular trend where users can share their thoughts about sports apps on social media platforms.
Smart App with ML and AL
We all know that apps are getting more intelligent with the help of ML, so when you attach ML algorithms to your sports apps, you can offer your users an artificial intelligent experience. Your app can educate itself from the user activities and deliver specialized personalized content.
Latest apps can offer you honest sports news users want, or a few broadcasting apps can let users watch live matches. Al will help the users in letting them answer frequently asked questions by offering you the best answer without any support.
Also Read: How to Develop a Fitness App in 2023?
Latest App Ideas in the Sports Industry for 2023 & Beyond
It is never possible to hit the target without having great strategies and ideas; one without proper ideas will never be able to survive in the market. So given below are the best sports mobile app development ideas for 2023.
Fantasy Sports Apps
Not all players like sports physically; we know that winning a game requires excellent strategies. So if you think you are great at making strategies, then fantasy sports apps are what you need. With the use of fantasy app development and fantasy sports app development, you can increase your revenue.
Users can earn money by preparing their teams and competing on higher platforms. Winners can enjoy a handsome cash prize, and the possibility of winning a user can also lose money.
Sports Streaming Apps
This term has been attached to the sports industry for a long time. The entire journey started with radio, then shifted to television, and now we enjoy it by watching on our devices. You can think of developing an app that offers live streaming, and it also must support fantasy sports app development to increase the reach.
Moreover, you can gather all the relevant information related to fantasy application development to know more deeply about the system. You can also add features like highlight, engaging push notifications, in-app discussion, allowing users to connect within the app, etc.

Ticket Booking Application
Attaching rare elements is not always essential; sometimes, attaching the common thing increases your account's reach. You can also create a ticket booking app for sports events. It may sound like it won't work, but history says it has an excellent track record.
MultiQoS Expertise in Sports App Development
Offline Method for Streaming Apps
Sports apps that offer to stream are top-rated, and they also hold a broad user base because most sports lovers enjoy their sport directly through their devices. So to provide their users great experience, attaching an offline feature will add positive feedback to your application. Allow the users to download the live and popular shows to watch them anytime.
An Extraordinary Chatting Experience and a Smooth New Feed
Newsfeed is something where a person can spend hours exploring new and exciting content. If your newsfeed carries bugs and has glitches, then you might end up losing many users. So offering a great newsfeed without glitches can not only increase your users but can also increase your target market. You must also pay attention to the chat box and add features like GIFs, stickers, etc.
Handle the Server on the Fantasy Sports App
A sudden breakdown in traffic can affect the server and lead to the crash of your fantasy sports app. Make sure you hire Mobile App Developers to eliminate all the bugs and get a great server. Tying knots with one of the best Mobile App Development companies is essential as it can help you engage many new users.
The smart chatbox can solve many queries, so it is essential to attach one to your application so that the users don't need to wait to connect with the customer executive. 
Also Read: How Much Does It Cost To Build A Fitness App in 2023?
Final Thoughts!
If you plan to create a sports app, this article is what you need; it covers all the essential things related to sports app development. The above-given stats will help you understand the growth rate of the app development and the target audience. You can also use the given key features to enhance your app, give it a great look, and attach a few ideas that are best for your application. You can also consult the sports development agency to know more about the features required for the development.
Frequently Asked Questions (FAQs)
FAQs on Sports App Ideas & Trends
The cost of production depends on the need. A complicated sports app with advanced features will require more time, effort, and budget. The cost of the app also varies on devices such as Android, iOS, etc.
It is essential to go with a trusted development company to ensure quality and growth. You should also keep customer satisfaction in mind.
You can find both hybrid and native app development. Native sports apps work only on the specific platform they are designed for, i.e., iOS or Android. Hybrid can work on all platforms.
It is impossible to answer this question specifically because business apps take different amounts of time to built depending on functionality required in the application, development model, and the level of experience of the developers and designers.
We have a team of highly skilled professionals who can create high-quality sports applications with market-leading technologies. Sports apps can be developed in a variety of categories, including
Sport Aggregator
Dedicated Sports
Fantasy Sports Ticket Booking
Live Streaming App
Sports Betting App
Fitness Tracking App
Coaching and Training App
Launch Your Sports App Now
Just take one step forward and we can build history.
Your Trusted Tech Partner!
We develop digital products that enable you to embrace innovation and unlock opportunities.
Talk To Our Experts
Subscribe
Newsletter
Get our latest blog posts, research reports, and thought leadership straight to your inbox.