Industries
How Much Does It Cost to Develop an Ecommerce App Like Noon?
Introduction Customers prefer purchasing and researching on their mobile phones, regardless of the screen size. As a result, the number of financial transactions carried out on mobile devices is on…
24 October, 2022
8 minutes read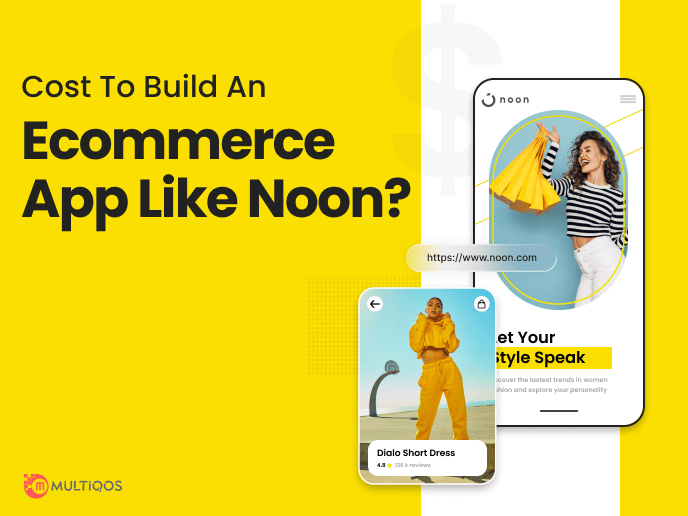 Introduction
Customers prefer purchasing and researching on their mobile phones, regardless of the screen size. As a result, the number of financial transactions carried out on mobile devices is on the rise, while the number carried out on desktop computers is on the decline. Now, more than fifty per cent of all digital purchases are made via applications downloaded to mobile phones. Apps are acquiring more and more users as a direct consequence of the benefits they provide. As a growing number of individuals make purchases using their mobile devices, businesses are beginning to understand the ever-increasing need for enhanced mobile shopping experiences.
Creating an app that facilitates online shopping is a fantastic way to get on the bandwagon, which is especially useful if you want to boost the earnings of your business. The purchase experience of a consumer, like any other experience, might potentially benefit from the usage of an app. Because of this, you've seen an increase in not just the number of people using e-commerce apps but also eCommerce app development cost being invested in them. This will be the main subject of discussion throughout the blog. After you've finished reading it, you'll have a more excellent knowledge of the long-term profitability of the solution, as well as why firms should encourage eCommerce marketplace development in general.
What Is Noon App, and How Does It Work?
It is widely acknowledged that Noon is the essential e-commerce shopping platform worldwide, particularly in the United Arab Emirates. Its market worth is now estimated to be one billion dollars. Also, its user-friendly design and smooth operation have earned it a fantastic reputation in every region of the globe. It promises to deliver an unparalleled shopping experience by offering over 20 million items, which include apparel, baby supplies, home décor, electronics, sports equipment, housewares, groceries, and a wide variety of other goods.
It is not some flashy relationship with a leading company where you Hire eCommerce developers that sets this platform apart from the others; instead, it is a conscious and proactive focus on logistics and supply chain infrastructure. This is what makes this platform stand out from the others. Some of the features that are included in the application are- 
A user-friendly interface with features that are quick to respond.

Various categories have been used to organize the listing of items effectively.

Customers will have an easier time locating the product category they seek if they use the search boxes and filters that are made accessible to them.

Supply chain management should be essential to guarantee that a diverse selection of products can be sent to consumers.

Navigation that is both easy and speedy

There is the option to send using either standard time or expedited service.
By guaranteeing timely delivery, Noon has raised the bar for the industry standard of on-demand app development. Therefore, it is essential for businesses who want to create their applications to investigate the construction of Noon. Now that we have everything out of the way let's discuss what it is about Noon that sets it apart from other eCommerce solutions.
E-Commerce Apps – A Market Overview in UAE
The convenience of buying online can't be beaten since you can locate and buy practically anything, from any location, at a price that's right for you. But, of course, that is when you consider long-standing market giants like Amazon. In 2019, eCommerce giants such as Flipkart, eBay, Walmart, and others were responsible for 50% of all online retail transactions that took place globally.
And this is exactly where the boom of eCommerce Marketplace App comes into play since almost every small firm was encouraged to enter this lucrative industry. However, only a small number of businesspeople and enthusiasts have managed to carve out a long-term presence for themselves in this rapidly evolving industry.
It used to be that the idea of developing an app for e-commerce was intimidating. Still, with today's best eCommerce development services, it has become a goal within reach. First, double-check that the architecture of your mobile app for eCommerce is headed in the right direction. In the United Arab Emirates and other nations of the Middle East, the amazing success of Noon, an online marketplace with numerous vendors, has generated a surge of creativity among the region's merchants. According to the findings of recent studies, the value of the global e-commerce industry is projected to increase to $16,215.6 billion by 2027, up from an anticipated $9.5 trillion in 2020.
Popular E-commerce Marketplace Platforms in UAE
If your organization is interested in developing a mobile shopping application similar to Noon. In that case, we strongly suggest you investigate some of the most successful instances of eCommerce mobile app development Company that are already available in the United Arab Emirates. 
By analyzing these examples, you may find that it is easier to evaluate which features are essential for an e-commerce program and which ones may be omitted. In addition to this, you will have an understanding of the features that are missing from the program. They are essential to the success of your shopping app if you want it to differentiate itself from other similar apps.
Also Read: How Much Does It Cost To Create An App Like Fetchr in 2023
Impressive Features to Add to the Ecommerce Marketplace
The landing page of your application is the first screen that users will see once they have completed the onboarding process for your app. Therefore, ensure that you present the information that will be of the utmost significance to them. For example, the site may include the most popular product category and the most recent and relevant discounts and promotions.
Users are required to register for an account before they can begin using the app. Users can sign up for an account and log in to the application using either their email addresses or the credentials for one of their social networks. To sign in to the app, a user must first register for it. If they have done so, they may sign in by entering their credentials. After that, they are required to build a user profile capable of storing all that data.
These days, eCommerce Marketplace App Development provides an interface for online payment methods. If you want to build an e-commerce software comparable to Noon, you can't leave out these functionalities since everyone today considers them to be essential components. For example, you may pay for your purchases made online using a bank account, a digital wallet, or the Unified Payments Interface, thanks to this handy option (UPI). The first setup charge for the payment gateway option may be $70, and then the maintenance would be $30 per month.

The app's primary emphasis should be placed on the product catalog of your online shop. You should incorporate tiles with images, product names, and prices in your catalog to make it easier on the eyes. This will help make your catalog more visually appealing. One of the alternatives is to make a list of the sub-components that are identical to one another and, as a result, have to be arranged in descending order. You also have the option of merely displaying a subset of the item's representation if this is a solution that works better for the application you are using.
Customers have the ability to "wishlist" things that they are interested in purchasing and come back to them at a later time. There are a variety of reasons for this, including, but not limited to, a larger price tag, a lack of accessible cash, a lack of available time, and so on. However, it is beneficial for the app and might be a game-changer in terms of downloads.
Benefits of Creating an eCommerce Marketplace App like Noon
The scale of the eCommerce sector is enormous; as a result, businesses should not need any additional explanation for developing eCommerce apps. Still, consumers need to be aware of the many benefits before finding out they can grasp how to develop an app like Noon. The following is a list of some benefits.
Increased Profits:

Numerous eCommerce applications have demonstrated the efficacy of digitalization by utilizing cutting-edge technologies such as augmented reality, artificial intelligence, machine learning, and other similar technologies. These applications have shown that digitalization can be profitable. Additionally, it has assisted in attracting users, increasing the app's level of involvement, and achieving significant financial success.

Increased Brand Recognition:

It's possible that putting a company's name out there via mobile e-commerce software such as Noon would help. Businesses may be able to establish better ties with their customer base by distributing customized adverts via the use of apps that are user-friendly and interesting.

User Friendly: Hire mobile app developers in India capable of developing an eCommerce app as user-friendly and adaptable as Noon is a good strategy for companies looking to raise their brand's profile. If you want to increase consumers' knowledge of your brand and maintain as many of them as possible as loyal customers. In that case, a great strategy is to give them exceptional discounts that are catered just to them.
Required Tech Stack to Develop an eCommerce App like Noon
Here are the technology requirements to develop an eCommerce app like Noon
Android:

Kotlin, Java

Cross-platform Programming Tools:

Flutter, React Native, Xamarin

Databases:

MongoDB, MySQL, PostgreSQL, Firebase by Google

Front-end Technologies:

CSS, HTML, JavaScript (Vue, React, Angular, jQuery)

iOS Mobile Development Tools:

AppCode, XCode

iOS:

Swift, Objective-C

Storage:

Firebase storage, AWS

UI Frameworks:

SwiftUI, UIKIt
How Much Does It Cost to Develop an E-Commerce App Like Noon?
The app development company you choose might have a considerable influence on the many moving components involved in creating an e-commerce website and app. This information has to be carefully considered in order to use Noon, which is software for managing an internet company. This method might estimate the cost of a mobile app development that allows users to do business on the move. The final cost of developing a Noon app is likely to be determined by several important factors.
If you want users to download your app, you need a unique design that sticks out from the rest of the pack. Customers are more likely to return to a website that is easy to use and appealing to the eye. Therefore, the way in which your app looks plays a significant role in determining whether or not users will use it. You should expect to spend something in the range of $24,000 to $35,000 to obtain a design that is intricate and captivating.
The Platform You Choose for Your App
When choosing a platform, the target demographic of the communication should be given significant consideration. According to the results of the poll, almost all developers of mobile apps (98%) utilize either Android or iOS. Therefore, if you choose a company that develops applications for several platforms, you may save up to forty percent on the cost to develop an eCommerce app like Noon since the application will work on both platforms.
Your software's size and level of complexity will have a direct bearing on the cost that it will ultimately incur. Therefore, it is essential to remember that Noon's advanced app architecture comes at a premium price if you consider adopting it.
An app may include a broad number of functions; nonetheless, it is essential to make an informed decision about which features to include by considering not just the users you want to attract but also the app's overall aesthetic. In addition, the price of developing an app and the amount of time it takes will go up in proportion to the app's level of complexity. As a result, it may be the one that contributes the most to the overall cost to create an eCommerce app like Noon.
Level of Expertise of the Development Team
During the third phase of the app's life cycle, referred to as "development," the app's blueprints and ideas are converted into code that works. Then, the site design and development experts at the company would put the Noon App features you choose into action. An additional $30,000 may be required at various points in the development process, depending on the amount of time, effort, and complexity involved in the addition of new features or resources.
MultiQoS: Your Partner in Success?
The total price tag for a Noon app may go up or down depending on several aspects. These considerations include the platform the app is built on, the design and complexity of the software itself, and the number of additional features it contains.
At MultiQoS, a leading eCommerce development services provider with headquarters in India and the United Kingdom, we have great expertise in developing retail apps similar to Noon. Our e-commerce developers can give all of your ideas a concrete form and make them a reality. Investigate our previous efforts to get further knowledge. When designing an online shopping application, the first step is to conduct in-depth research into the target demographic, followed by an assessment of the most innovative technology choices. Then, we provide customized mobile application solutions, including a quality assessment that guarantees the apps will function without a hitch.
Wrapping Up!
Internet shopping has been much less complicated since the Noon app was made available to consumers. They are now able to discover anything they are looking for in a fast and simple manner. As a direct result, it has successfully achieved a high adoption rate. Working with us guarantees that you will get a product that simplifies the shopping experience for your customers and offers you an advantage over the competition. 
Although Mobile Application Development from scratch may be expensive and time-consuming, working with us guarantees you will get such a product. Therefore, please contact us as soon as possible if you want to create an app similar to Noon. Furthermore, we are quite experienced in building clone apps that can be used in a broad range of sectors. Because of this, you can rely on us to be dependable partners throughout the whole process of developing an application.
Frequently Asked Questions (FAQs)
FAQs on Ecommerce Mobile Application Development
Native and hybrid applications are the two primary categories of mobile software.
Native apps are a kind of mobile software that runs only on one mobile platform, such as Android or iOS, and may be obtained via the respective app stores.
Hybrid apps are so easy to create because they share a single code base with their mobile and desktop counterparts. Compared to hybrid applications, native apps provide a much more excellent experience for end users.
In the past, some businesses may have chosen to develop applications for a single operating system. However, the popularity of Apple's iOS and Google's Android operating systems means that many companies choose to create compatible applications.
The typical price tag for creating an app like Noon would be between $25,000 and $30,000. The cost to develop an app like Noon will increase to $35,000 if you include features like artificial intelligence and personalization.
Want to Tailor Your E-Commerce App?
Request a Free Estimate for Your Ecommerce App.
Your Trusted Tech Partner!
We develop digital products that enable you to embrace innovation and unlock opportunities.
Talk To Our Experts
Subscribe
Newsletter
Get our latest blog posts, research reports, and thought leadership straight to your inbox.