Mobile App
How Much Does It Cost To Build A Real Estate App Like Bayut?
Introduction With the world digitized, we now find all our needs at the top of our fingers, including finding a home. Property listing apps like Bayut are rising to our…
18 August, 2023
5 minutes read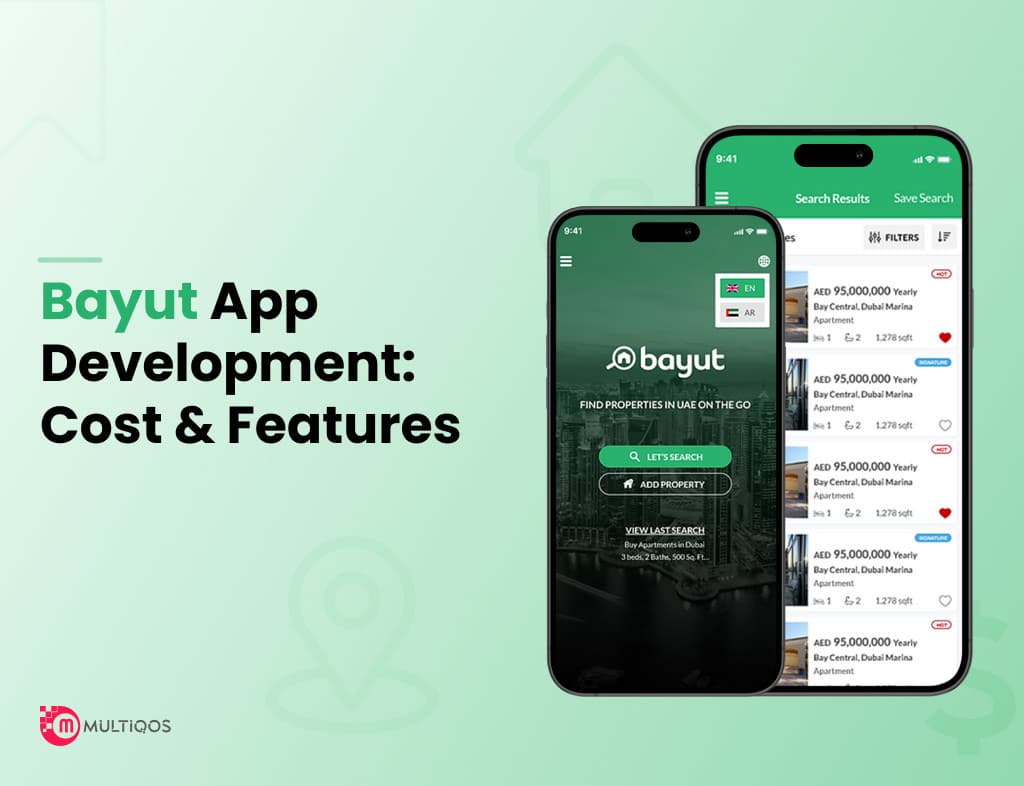 Introduction
With the world digitized, we now find all our needs at the top of our fingers, including finding a home. Property listing apps like Bayut are rising to our aid, making finding a property a piece of cake. Wouldn't it be exciting to build such an app? Did you know that 80% use mobiles for real estate searches, purchases, and marketing? Mobile tech has made real estate highly profitable. All of the places are at your fingertips. Is it an amazing venture or just a total waste of money? Due to the real estate industry's digital transformation, companies and entrepreneurs are considering creating similar platforms. In this post, we will explore the idea of building an app like Bayut! Let's get started. Although it is quite evident by now what kind of app Bayut is, let us know more about Bayut, property listing app, cost to develop mobile app.
What is Bayut App?
Bayut is a prominent online real estate platform [UAE Property Search] that operates primarily in the United Arab Emirates (UAE). It serves as a comprehensive hub for property seekers, sellers, and real estate professionals, offering a wide range of property listings, tools, and resources to facilitate property transactions. The platform aims to streamline the process of buying, selling, renting, or leasing properties in the UAE's real estate market.
Understanding The Importance Of Cost Analysis For A Property Listing App Like Bayut
Launched in the year 2011, this Property Listing App is based in the UAE, that is, the United Arab Emirates. The app provides an extensive list of properties for sale or rental in that region and allows browsers access to all the properties in the region by sitting in one place.
Developing an app is a costly venture. Moreover, an app that is all in one needs extra effort and an extra budget. For the same, contact a Mobile App Development Company in Dubai. When considering building an app like Bayut, let's see what is so special about this app that mobile app developers in Dubai speak about:
The app allows users to find homes in their preferred location within their budget range and provides photographic details of the property.

It not only allows the user access to the list of properties but also provides advanced search depending on the needs of the browser.

It also allows users access to the reviews of the place and connects them with their local brokers, who can assist in the search and settlement.
When thinking about launching an app, you also need to consider the maintenance of the app after its launch; Bayut App Developers get paid a lot.
Any app launch takes place in different steps. Let us understand the steps one by one.
Understand User Requirements
When planning something for someone else, you must put yourself in their shoes.

Understand what your customer intends to find when they download a property listing app.
Designing and Coding the App
Once the app's content is ready, you must start with its design.

The design takes place in two aspects: the back and front.

This step includes all the essentials and will be a rough representation of what your app will look like when it's up and running.
Testing the App
After you are done with coding the app, it is time to test it.

This step is crucial and may be time-consuming as you will be test-running your app.
Deployment of App
Once the testing is positive and you find that the app can run into the market, you launch your app.

After launching, developers must constantly look out for bugs and app maintenance for efficient working.
Factors Influencing the Cost of Developing a Property Listing App
App Features and Functionality
The

cost to develop mobile app

highly depends upon the project size. The bigger the project, the more the

Bayut app development cost

would be for developing it.

Want to know 

how much does it cost to develop a property app like Bayut?

The cost depends upon the features you wish to add to the app. The more features, the more the cost to maintain those features.
Design and User Interface
The design and user interface, that is, the UX of the app, will decide how customer friendly the app is.

The more complex the design, the more the cost of the project.
Presented below is an illustrative real estate app design for your reference.

Source: Home Rental App UI Design
Platform Compatibility (iOS, Android, Web)
Since the ongoing debate about who is better, iOS or Android, you need to make sure which platform your app is compatible with.

And well, if you wish to run your app on both platforms, then your cost doubles.
Database and Backend Development
The database goes into the app; it's the app's content.

The backend server will handle all of the data that you decide to input.

Hence a well but backend is important if you value the quality of your app
Integration of Third-Party APIs
Third-party integration is when you need stuff from the outside.

This could include stuff like Google Maps or other software, which will add up to the cost of development.
Maintenance and Updates
The last but most crucial part of any app is its maintenance

You don't want to leave your app high and dry once it's out and running.
Estimating The Cost Of A Property Listing App Like Bayut
As said earlier, developing an app is costly. Moreover, as the app's complexity increases, App Like Bayut Development Cost increases. Factors like platform (iOS or Android), design, third-party integration, and features like listing management, notifications, images, reviews, etc., make your cost high. But this is the cost you need to pay to get your app functional and running. The average cost of developing an app is $10,000 to $50,000. We can't make a precise budget for the Bayut App Development Cost.
Also Read: How to Make an App Like Zillow and Trulia?
What Makes MultiQoS Stand Out in Real Estate App Development?
MultiQoS is one of the leading mobile app development company in Dubai which provides superior services in the field. Millions of mobile companies use Android, which is a wise platform for app development. With its roots in India, USA, Germany has created its footprints all around the world with over 500+ projects delivered. 
Expertise and Experience:

Our skilled team brings deep industry understanding and tech proficiency.
Customization:

Tailored features ensure the app aligns perfectly with client goals.
User-Centric Design: Intuitive interfaces enhance user engagement and satisfaction.
Advanced Technology: Integration of AI, AR/VR, and geolocation enriches user experiences.
Scalability and Performance: Apps are built to handle growth while maintaining fast performance.
Data Security: Robust encryption and privacy measures instill user trust.
Integration: Seamless connection with real estate ecosystems streamlines processes.
End-to-End Services: Comprehensive support from concept to deployment and beyond.
Transparent Communication: Clients receive consistent updates and their feedback is valued.
Proven Success: Our track record showcases their ability to deliver results.
For your dream app, you will partner with the App Development Team, which includes real estate app developers with experience of over 12+ years. Our mission is to provide Top-quality work and focus on gaining happy clients for a lifetime. Being a customer-friendly real estate application development company, our goal is to engage with clients and provide solutions that meet their needs and goals.
Conclusion
The venture of creating a property listing app like Bayut is adventurous and costly at the same time. However, the right planning and team execution can get things done within the budget. As technology continues to weave its threads into every facet of our lives, the power to create platforms that simplify, enhance, and elevate property experiences becomes increasingly compelling. The key aspect of app development is choosing an experienced firm like MultiQoS Technologies, which can provide you with excellent facilities with a not-so-expensive budget.
Frequently Asked Questions (FAQs)
FAQ on Bayut Application Development
Most property listing apps earn from their sales commission. However, Bayut does not charge any kind of commission. They get all the required revenue from advertising. It also charges subscription fees to landlords and agents who wish to list their property in the app.
Development of any app takes 2 to 6 months, depending on the project's complexity. Moreover, testing of the app may bring out more faults and cause reruns of the app, which may be time-consuming
You need to add features like user authentication and secured payments. This will be done while designing the app.
The choice depends on your target audience and desired app performance. Native apps often offer better performance but can be costly due to development for each platform. Cross-platform apps can be more cost-effective but might compromise some performance aspects.
Balancing cost and quality is essential. Cutting corners on development costs can lead to a subpar user experience. Prioritize key functionalities while ensuring the overall app quality aligns with user expectations.
Key factors include app features (search filters, virtual tours, user profiles, etc.), design (custom vs. template), platform (native vs. cross-platform), technology stack, third-party integrations (maps, payment gateways), and ongoing maintenance.
Get Real Estate App Development!
Our experts use cutting-edge tech to create innovative real estate apps.
Your Trusted Tech Partner!
We develop digital products that enable you to embrace innovation and unlock opportunities.
Talk To Our Experts
Subscribe
Newsletter
Get our latest blog posts, research reports, and thought leadership straight to your inbox.