Industries
How Much Does It Cost to Develop a Fintech App in 2024 – How to Estimate It?
Overview What do you understand about financial apps- Bitcoins, cryptocurrencies, and Ethereum? The financial industry is accelerating at an unfathomable rate as a result of technological advancements. Given this, there…

Parth Thakkar
Overview
What do you understand about financial apps- Bitcoins, cryptocurrencies, and Ethereum?
The financial industry is accelerating at an unfathomable rate as a result of technological advancements. Given this, there is no universal definition of Fintech; it simply refers to the advancement of finance as it applies technology to its day-to-day operations. 
However, fintech mobile app development isn't easy. Companies must be on their toes and have a sense of both finance and technology. If you employ financial software development, you may create an endless number of apps. However, many organizations don't know how much a fintech app costs, what features they should consider, and what they shouldn't because of a lack of knowledge or expertise in the field.
Types of Fintech Applications
We are quite familiar with Fintech and how it might affect the way you do business. When we think about Fintech, we could think of digital wallets, asset management, secure payment gateways, asset management, and a variety of other app advances that benefit organizations. 
If we were to categorize the essential Fintech apps, we would categorize them as follows:
It is one of the areas where Fintech has had a significant influence on mobile technology. Since we no longer need to handle cash in our wallets, mobile payment applications have become an indispensable part of our lives. Various payment channels are connected with the wallet app, which is utilized by millions of businesses and consumers. What makes them so popular? These offer a simple and secure payment method as well as a better customer experience. These mobile payment applications have overcome the challenges posed by traditional payment systems.
Consumer finance apps are intended to assist consumers to manage their finances and make informed decisions about how to spend their money. This software primarily assists customers with budgeting, digital payment management, credit card backup, and customer information analytics. This sort of Fintech software is advantageous in terms of improving the user experience, removing a barrier to activities over traditional banking methods, and lowering expenses.
This sort of app is an excellent illustration of what to think about while looking for Fintech mobile app development services. Users can utilize investment programs to evaluate and then invest in a variety of financial resources based on their appropriateness. Customers benefit from these solutions since they allow them to improve their performance and invest by providing them with data analytics.
Insurance solutions assist clients in obtaining accurate and up-to-date information regarding insurance. These assist users in resolving challenges that have arisen in the financial business. Insurance is available in a variety of fields, including settlement of claims, sales and marketing, travel, automotive, and medical.
Peer-to-peer financing applications connect users with others who are looking to acquire money or give to somebody in need without having to go through a government-regulated lender. Consumers may also borrow a little sum against their next payment using these applications.
What to Look Out for Before Developing Fintech Applications?
Your mobile app development must satisfy your ultimate business goals in order to meet the demands of the market. In other words, your app should be high-performing and completely improved with cutting-edge features to meet users' expectations.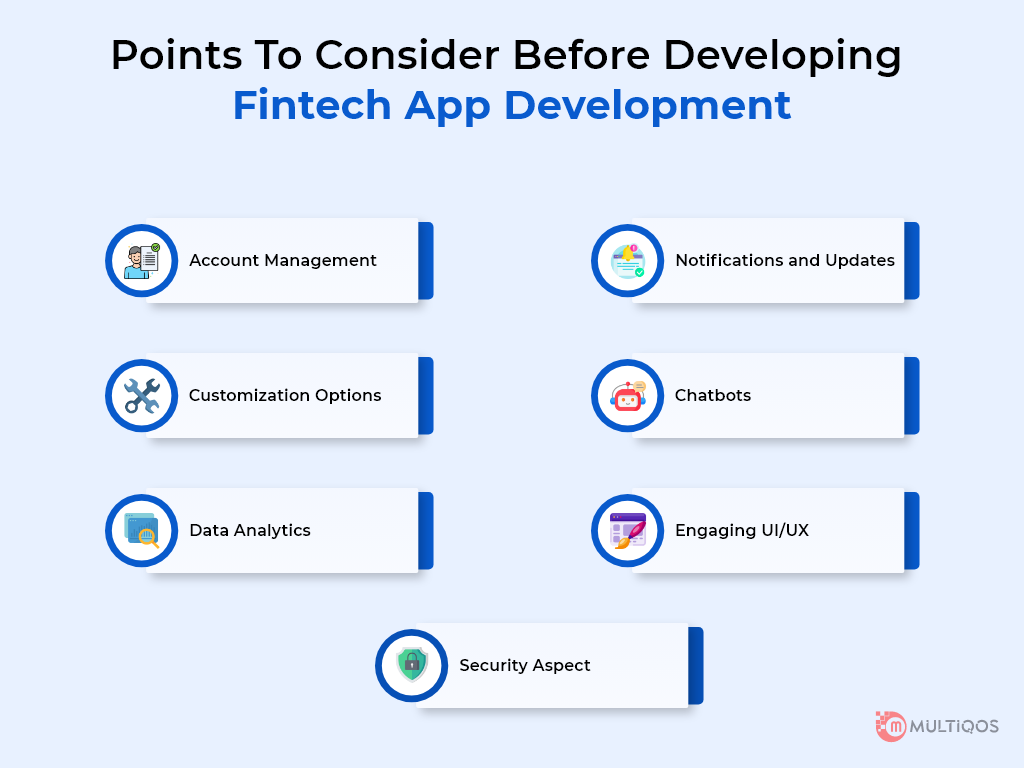 Every bank must cater to its clients in a unique way, which can only be accomplished by providing distinct customer experiences. You can create a banking app or any other financial app with a wide range of consumer-centric functionalities. 
But before that, let's see what features we can include in a financial app:
For consumers, the app should play a critical role in authentication, transfers, and day-end tally. It should help the user with their regular payments, account records, and account balances through the banking program. You can also use an easy and safe method to access money transfers. The developer will provide a variety of account management options, such as money transfers through phone numbers or email addresses.
There are numerous platforms in the industry delivering the same boring function in android app development. So, what can you do to make your app/platform sound unique? Custom Fintech app development will make a significant impact. The banking and financial industry clients determine whether or not special features are added. It all begins with prospective clients approaching software development organizations with a variety of problems. Technology solutions are being proposed to address these issues. IoT, machine learning, AI-powered bots, and other innovative technologies are available to mobile app developers.
Fintech firms would never pass up the opportunity to analyze data and get insights in order to provide better financial advice to their clients. Since it allows users to examine and track the history of their financial activities, data analytics is a vital component of a fintech android or iOS App Development. The program also analyses the entire data set and creates results for the user. Consumers may monitor and track their prior financial transactions with the use of big data.
Notifications and Updates
Your finance improvements will keep your clients engaged and informed while you create apps. It's critical to inform each user about any transaction or program upgrades. You must, as we all know, continually upgrade your apps in order to improve user experience. Transaction alerts allow users to double-check their activities. In addition, the apps serve as a reminder to the user about their spending and investment. Before customers buy stocks, banking apps should provide them with articles and information. Users may track their accounts and monitor their credit score, rewards, and bill due dates.
Chatbots are becoming increasingly popular. Customers can contact you by voice, text, or by tapping on the app and selecting options. The use of chatbots in banks and financial institutions has the ability to improve customer support. Conversational banking is the way of the future in banking. Customer service and help revolve around speed, information accessibility, and pleasant interactions.
You could believe that a nice user interface is required for making straightforward mobile payments. Why? Because user satisfaction that your development team provides with the produced mobile app, not just the bank transfer. In order to give the best understanding when using the app, it is vital to have an appealing UI/UX. The plan must guide the executives and assist them in gathering further facts. For all UI components, selecting appropriate textual styles and displaying content logically with proper shading codes. It's critical to include these aspects in future cross-platform development as needed.
Hackers could use fake mobile banking apps or public Wi-Fi to get access to your mobile banking app. It's a formula for catastrophe if you don't update your phone's operating system or apps. KEEP PASSWORDS AND PINS ON YOUR PHONE. There are several reasons why you should use security in your application. You should not hesitate to include this functionality in your app. Although money is a consideration, security should be one of your top objectives.
What Makes Fintech Development Cost Estimation So Difficult?
A common issue that disturbs most business leaders is 'what makes estimating the development cost so difficult"? 
The fundamental reason for this is that estimating is a difficult endeavor. The distinctiveness of the answer, in our experience, isn't the only factor that makes estimation difficult. Here are a few common reasons stated by skilled mobile application development services which makes estimation difficult than usual:
Lack of time and basic idea about the project

Incapability in forming clear, complete, and reliable specifications

Dynamic Nature of Technology and Business Environment

Variations in the approaches to make an estimation

Other related variable factors 
How Much Does It Cost to Develop a Fintech App?
Whether you operate a giant corporation or a small business, the financial app development cost is always a crucial deciding factor. Each company has its own objectives, mission, and vision, yet they all desire to stay within their financial constraints.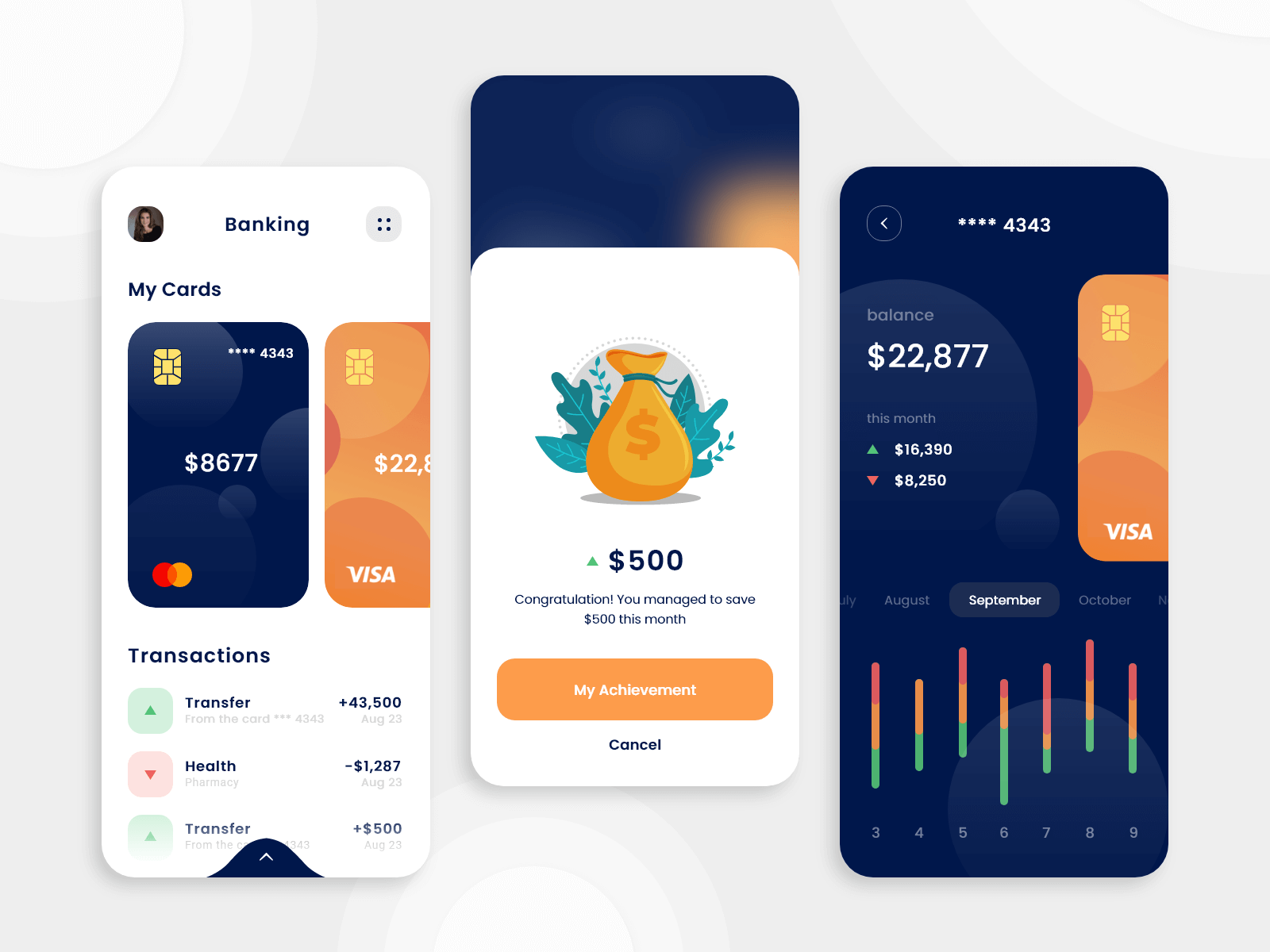 Source: Banking and Finance Application
The cost of a fintech app is determined by a number of factors, including the app's complexity and functionality, the requisite team structure and tech stack, the experience and location of the fintech app development business, third-party API integration, and so on. These considerations might help you figure out how much it will cost to design a FinTech app.
Depending on these many factors taken into account by the fintech app development services, the overall cost to construct a Fintech app with all of the essential features and capabilities would be roughly $15,000 to $35,000. This budget will increase in order to create a cross-platform Fintech app with best-in-class functionality.
How Much Does It Cost to Maintain a Fintech App?
Maintenance and security are significant factors in the banking business. If you create a FinTech app, you must ensure that it is updated on a regular basis. It will ensure that there are no severe flaws or security problems that might jeopardize the user's money or bank account information. Previously, the cost of upkeep for a simple app was small, but with cutting-edge developments in the industry, its needs are soaring. 
Since a mobile application development for a Fintech has many crucial features, the maintenance expenditures are costly to provide a quality, secure, and dependable User Experience. The amount of money you spend on maintenance each year depends on a number of factors. In a nutshell, the number of users, the complexity of your program, and the amount of data you have access to will all influence your annual maintenance costs.
How Can MultiQoS Help in Fintech App Development?
Well, there is no denying that the current era offers a fantastic chance to develop amazing Fintech solutions. 
Do you want to grasp the opportunity and create a solid Fintech solution tailored to your business?
If so, you can connect with us. MultiQoS is a renowned financial software development firm offering end-to-end mobile application development Services with an emphasis on client security and satisfaction. Our team can assist you in developing a successful financial application development that will address your business's problems while also providing an exceptional client experience.
Conclusion
If you're an entrepreneur looking to join the market with a comprehensive app, this tutorial is a good place to start because it will help you achieve your app's aim of gratifying app users.
FinTech mobile apps are now proving to be a game-changer in the industry, with every company clamoring to invest in this area. In the preceding post, we provided a comprehensive overview of fintech application development, including projected costs, features, kinds, and common instances. It will assist you in gaining a better understanding of Fintech apps prior to hiring app development services. 
Interested in Fintech App Development?
Boost your fintech business growth with our mobile app development services.
FAQ on Cost of Fintech App Development
Fintech is a phrase that describes how financial services and technology are combined. Simply said, fintech uses the power of technology to make financial services more accessible. It's all about harnessing cutting-edge technologies like artificial intelligence, machine learning, and blockchain to automate and improve the delivery of financial services.
As financial data is more susceptible to theft and cybersecurity hazards, financial app developers must exercise particular caution. Fintech apps are created with all of the potential hazards in mind. They are solely responsible for the security of sensitive information.
Different sorts of fintech apps may be developed based on the demands of users, such as PayPal for digital payments, Dave for digital loans, Insurify for digital insurance, and so on.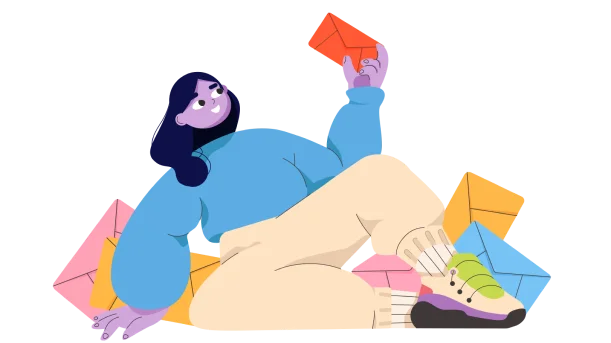 Don't Miss Out!
Your Inbox's New Best Friend. Subscribe Now and Never Miss a Beat!
Read More Blogs