Mobile App
How to Create a Location-Based App: Why You Should Build One
Lobe it or hate it, but geolocation is likely to be present in more than 90% of the apps installed on your smartphone. Well, camera, touchscreen, GPS, and 4G connectivity…
10 May, 2021
4 minutes read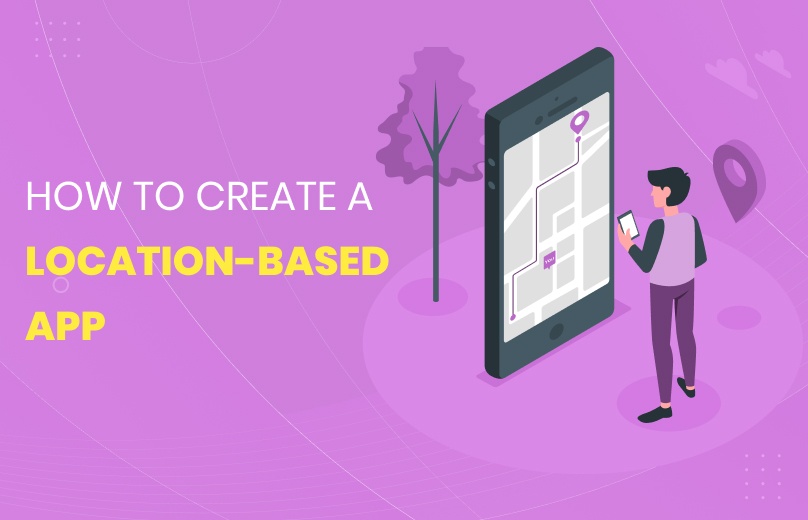 Lobe it or hate it, but geolocation is likely to be present in more than 90% of the apps installed on your smartphone. Well, camera, touchscreen, GPS, and 4G connectivity are the four pillars that mobile application development services are resting on nowadays. Quite impressively, the location-based services market is expected to reach great figures with a 28% annual growth rate.
No doubt, location-based apps are popular because of their on-demand economy services. With the COVID-19 pandemic still forcing people to stay indoors, location-based apps are in great demand.
The mobile app development services are looking forward to new and exciting ways with the help of which they can make these applications more engaging to the users. So with these things in mind, let's take a look at the various aspects of developing a location-based application.
A Brief Overview of a Location-Based App
As the name suggests, location-based apps allow the organizations to facilitate services near their proximity. With the help of a location-based application, the service, place, or person can be easily located. Here are some of the benefits of location-based mobile app development which you should be aware of.
1. Search and Shop Suggestions are Simple
With a location-based application, the organizations can be aware of the behavior of the users with the available data. They can also provide them with suggestions for shopping. When the organizations have a clearer image on the shopping patterns of the users, it is fairly easy for them to offer customized deals and discounts. Also, the app can recommend the name of the brand if customers are searching for localized services.
2. Facilitates Personalized Experience
Note that location-based applications help you to provide highly personalized services. Geolocation apps open ideal platforms for smartphones. These apps help companies provide their potential customers with various types of marketing strategies, discounts, push notifications, etc. So as you can see, the organization would possess a customized geolocation service.
3. Chance to establish Good Connections
There is no denying the fact that location-based applications allow companies to foster better connections with their users. For instance, with the help of a location-based application, businesses can attract a large number of customers. You would be able to foster good ties with your existing customers too. Also, the users would provide reviews which would help in making the location-based application better.
4. Top-Notch Navigation and Virtual Tours
With the help of a location-based application, hospitals may provide virtual tours with great navigation through the app. No doubt, it is a great utilization of the impressive location-based capability. Quite impressively, these apps can superimpose the virtual elements which permit the customers to get an interactive experience.
The Geolocation Technological Platforms you should know
If you want to develop a custom location-based application, you should utilize location along with mapping and location services. You can do that in various manners by using cell ID or Wi-Fi.
1. Cell ID
In case you don't know, cell ID uses GSM stations which would help with the identification of the user's position. Smartphones would help with the recognition of connected cell towers. By knowing the coordinates of the cell tower, they can quickly determine the location of the user. Ensuring the speed and reliability of the geolocation app is the most important thing which you should consider. Selecting GPS-based apps can also function exceedingly well. But this might decrease the battery of the user and lead to errors in GPS technologies.
2. Location of the Wi-Fi
Note that Wi-Fi functions exactly like GPS. However, it can cover smaller areas which can be an issue with most of the users.
Location of the GPS
Almost every tablet and smartphone is developed in the module of the GPS. But make sure the GPS signal is precise and quick but isn't available all the time.
Some Popular Industries which relies on Geolocation
Location-based applications have long exceeded the scope of the traditional Apple/Google, etc. If you examine this concept minutely, it is usually hard to find an application which doesn't deploy geolocation.
A large number of messenger apps also offer the capability to share your location within the chat. Even the photos in your camera roll are organized by location and date. Here are some of the popular industries which rely on geolocation apps.
Retail
There is no denying the fact that a large number of reputed retailers use geolocation tracking apps to increase their in-store experience. With the help of GPS data, they help the customers find the nearest store. On the other hand, users select a convenient pickup or delivery location. Some of these apps even come with an indoor navigation feature which relies mainly on beacons. Delivery services denote another popular geolocation app use case related to retail.
On-Demand Services
Similar to delivery services, the on-demand apps often make extensive use of GPS capabilities. Note that one of the popular on-demand transportation apps like Uber relies on the location of the users. It also allows the users to visualize the exact location of the taxis. The location-based applications would help individuals find providers and businesses nearby.
Travel
There is no hotel booking app which doesn't have a map view. Being able to find the nearest hotel with respect to your current location usually exudes practicality. This is the reason that major hotel booking apps offer location-based services to their users.
Games
There is no denying the fact that games heavily use location-based services to streamline the experience of the gamers. Virtual Reality based games depend on-location services to provide users with the ultimate experience.
Internet of Things
The Internet of Things or IoT relies on location-based services. Wearable devices like smartwatches and jewellery can be used to track the location of the user. Even the pet care apps use location-based services.
Developing a Location-Based App with Indoor Tech Platforms
No doubt, mobile application development based on indoor tech platforms is gaining great popularity. This is the reason that using the available technologies to create geolocation apps is of utmost importance. Here are some of the indoor tech platforms that you should be aware of while developing apps.
1. Geofencing
This technology is based on GPS and can be used to determine how close a user is to a specific location. Note that this tech platform is often used in the realm of advertising to provide target audiences with relevant offers and discounts.
2. iBeacon and Eddystone
Both iBeacon and Eddystone are developed by Apple and Google respectively. In case you don't know, these two tech platforms rely heavily on Bluetooth technology. They can transmit triggers to a device only when a person is within the reach.
Conclusion
So as you can see, location-based applications are steadily increasing in popularity. These apps can help you gain prominence within your operating domain. Moreover, it becomes easy to offer customized deals and discounts to the users with the help of location-based services. If you have a business and you are trying to get new customers, rely on location-based apps. Contacting a reputed mobile app development agency would help you to design and create a great app.
Let's Create Big Stories Together
Mobile is in our nerves. We don't just build apps, we create brand. Choosing us will be your best decision.
Your Trusted Tech Partner!
We develop digital products that enable you to embrace innovation and unlock opportunities.
Talk To Our Experts
Subscribe
Newsletter
Get our latest blog posts, research reports, and thought leadership straight to your inbox.