Mobile App
Wearable App Development – The Future of Mobile App Development 2023 – [Updated]
You must have heard about wearable technology as it is a trending phrase these days. Wearable application development has been revolutionizing all the sectors across the globe. It has been…
5 May, 2021
4 minutes read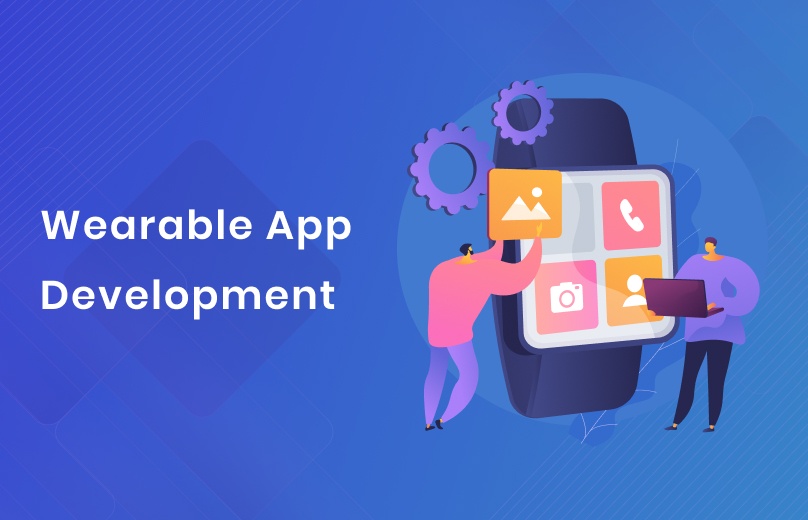 You must have heard about wearable technology as it is a trending phrase these days. Wearable application development has been revolutionizing all the sectors across the globe. It has been influencing the fashion industry, fitness, education, transportation, media, tourism, entertainment, healthcare, and other industries worldwide. Wearable devices include smart electronic devices that help people make their lives easier and simpler. With modern smart devices such as Google Glass and Apple Watch, one can make their everyday tasks better. There has been a growing need for mobile application development services for wearable devices as such apps are making waves in the market.
The rising need for Wearable Mobile App Development
Wearable application development can be used for streamlining business processes and boosting productivity. You should start looking for the best mobile app developers in India to incorporate the latest tools and technologies to build future-ready apps for such gadgets. There are a lot of mobile app development companies offering custom design, development, testing, and deployment of wearable applications. Wearable devices can be worn by the users on the clothing or can be used as an accessory. Such gadgets connect to the internet directly or via mobile devices to perform several functions. Such gadgets exchange the data between the network and devices.
Why should enterprises invest in Wearable Technology?
All sizes of organizations can build wearable mobile apps to transform their business productivity and enhance efficiency. With the rising use of mobile phones and wearable devices, users can switch to apps such as Parking, Accuweather, Spotify, and others to enjoy the maximum benefits of wearable applications.
Wearable application development has been a game-changer in the industry. Real-time updates can be obtained in the field of fitness, gaming, lifestyle, medical, and others with the help of wearable mobile app development services. People all over the world have been adopting wearable technology to enhance their lives.
Unique Features of Wearable Mobile Apps
Wearable mobile apps combine hardware and software to empower mankind. We'll discuss the major features to make unique and user-friendly mobile applications.
1. Functionality
Smart devices have been widely used as different types of accessories by users worldwide. Such gadgets connect to the other smart devices to enable various kinds of operations. Mostly, the hardware of the wearable devices is less powerful and so, there can be some limitations while creating portable apps.
The devices can be empowered with the apps to deliver the desired output. Smart wearable devices can manage different types of actions such as incoming calls and notifications, provide weather reports, and much more.
Once you have made up your mind for opting for feature-rich portable app development services, you should make sure that you discuss your requirements with the developers and get expert suggestions.
2. Products and devices
There is a wide range of products in the wearable category and new products are added every now and then. You should keep an eye on the latest smart devices and know what your target audiences prefer. Based on this understanding, you should focus on the right type of features and functionalities your app should have. You may want to build a wearable app for a single gadget or multiple.
3. Market share
Since the emergence of wearable technology, more and more business owners and entrepreneurs are looking forward to building wearable apps. They search for the best mobile app development companies to transform their vision into a reality. It is important to discover the market share of the kind of app you're planning to develop and reap the maximum benefits of wearable technology.
A surveyor market research can help you determine what type of wearable app you need to create. Identify the target audience and know what exactly they want before hiring a wearable app development company. There's no doubt that wearable mobile apps have a bright future, and investing in such apps will prove to be a wise decision for every size of business.
4. Data Security
Data security is another major factor you should take into account while developing a wearable app. As wearable tech would involve a lot of confidential and personal data of the customers, you need to focus on the security of the data. Follow the right measures for preventing data breaches, and talk to the developers for removing any kind of security concerns from the app. Protect the confidentiality of the data used on your mobile apps.
Hire the best wearable mobile app development company
There are a lot of companies offering portable application development services across the globe. You can interview a few agencies and shortlist a few. Discuss your requirements with expert mobile app developers, and get their opinions. Check the portfolio and experience of the service providers before hiring the best agency for wearable app development. Get quotes from a few mobile app development agencies, and compare them before making the decision.
Why Choose Us for Portable Mobile Application Development Services?
The market will be flooded with a lot of wearable gadgets and apps in the coming few years. So, now is the right time to develop wearable mobile apps for watches, gears, headgears, shoes, garments, displays, and more. So, now that you've made up your mind about building a wearable mobile app for your business, you should start hunting for the right service providers. This is where MultiQoS comes into the picture. As our company is backed up with a team of experienced designers, developers, project managers, testers, and business analysts, we can deliver all types of wearable applications.
Right from conceptualization to the successful delivery of the app, we stay connected with the clients and help them achieve their business goals. Whether you need a fitness tracking app or sensors embedded in the shoes, we can suggest the best possible solutions. As we focus on building user-centric apps that help our clients gain a competitive edge in the market, we are a trusted choice of several customers worldwide. Using the right advanced tools and technologies, we build robust and scalable wearable apps for different industries. Get in touch with us now to plan the best strategy for mobile app development to help your business grow.
Conclusion
We hope you find this article useful in providing relevant information on app development in the coming few years. The need of working with the right enterprise mobility solution that corresponds with company goals and current technological advancement is becoming increasingly important as enterprise mobile app development takes a new path.
Wearable app development is expected to become more popular in the future. Every year, these devices become more advanced and offer a larger range of capabilities. Contact MultiQoS if you have an app idea but don't know how to make it happen. We'll advise you on the best plan of action and give you a free estimate for the scope, cost, and schedule of your project.
Let's Create Big Stories Together
Mobile is in our nerves. We don't just build apps, we create brand. Choosing us will be your best decision.
Your Trusted Tech Partner!
We develop digital products that enable you to embrace innovation and unlock opportunities.
Talk To Our Experts
Subscribe
Newsletter
Get our latest blog posts, research reports, and thought leadership straight to your inbox.