Mobile App
How to Develop a Communication App like FairEmail: Cost & Features
Overview No matter if you're a new business or a well-known brand, communication is key to the success of your business. It is imperative that your staff get notifications immediately…

Parth Thakkar
---
Overview
No matter if you're a new business or a well-known brand, communication is key to the success of your business. It is imperative that your staff get notifications immediately and work closely together.
Communication apps such as FairEmail are rapidly gaining popularity in business. They offer instant communication and enable you to connect with your team from anywhere, anytime. For years these 'instant communication' and messaging apps have been a tech industry unicorn. Results like this are very remarkable. 
If you're interested in communication mobile application development in USA similar to FairEmail for your business but don't know where to start, what the features are, or how much it costs to make, you've come to the right place. To develop a messaging software like FairEmail, you'll find all the information over here.
What is FairEmail?
Several email applications are available in the Google Play Store. If you've owned the Android handset for any period, you've likely surfed with a variety of applications. There are many choices; however, most of these applications are not open source and do not necessarily place privacy at the top of their list. FairEmail is an open-source email application designed to provide the best solution to privacy-conscious users.
Main Features
Fully functional

100 % open source

Affiliation with privacy

Unlimited accounts

Unlimited email addresses

unified mailbox 

Chat threading

Two-way synchronization

Storage and operation offline

Batterie friendly

Low usage of data

Small (~20 MB)

Material design (including dark/black theme)

Maintained and fully supported
Most people refer to FairEmail simply as an Android email programme that is "privacy focused," "free," and "full-featured." It is compatible with virtually any email service, including the most popular ones like Gmail, Outlook, and Yahoo. It allows multiple accounts and email addresses within a single inbox, and it also supports chat threading, two-way sync, offline storage, and plenty more. It is also claimed as a completely-fledged email application.
The FairEmail interface doesn't provide many options in terms of "eye candy." You're taking an essential way to send emails, and if you're a particular type of user, it could be a good thing or an issue. There are specific design options that to tweak. The app comes with light and dark themes and the possibility of following the default settings of Android's system.
FairEmail may be the right choice suitable for you if you have data privacy. FairEmail does not support Microsoft ActiveSync or Microsoft Exchange Web Services. The app is minimal in its design, so you can focus on writing messages and reading them.
This app initiates an in-app service that is foreground and has the status bar with a low priority notifying you that you will not miss any new emails.
Privacy Features
Encryption/decryption supported

Transform messages to stop the spread of phishing

Confirm the display of images to block the tracking of your feet

Verify opening links to avoid being tracked and the possibility of phishing

The goal is to identify and deactivate images that track
The Development of an On-Demand Communication App like FairEmail
Many of you are currently in a quandary about which market you should target before you start the process of hiring a mobile app development company in india to create an app like FairEmail. If you have decided that FairEmail is the right communication app to develop, you should be curious about the app development process.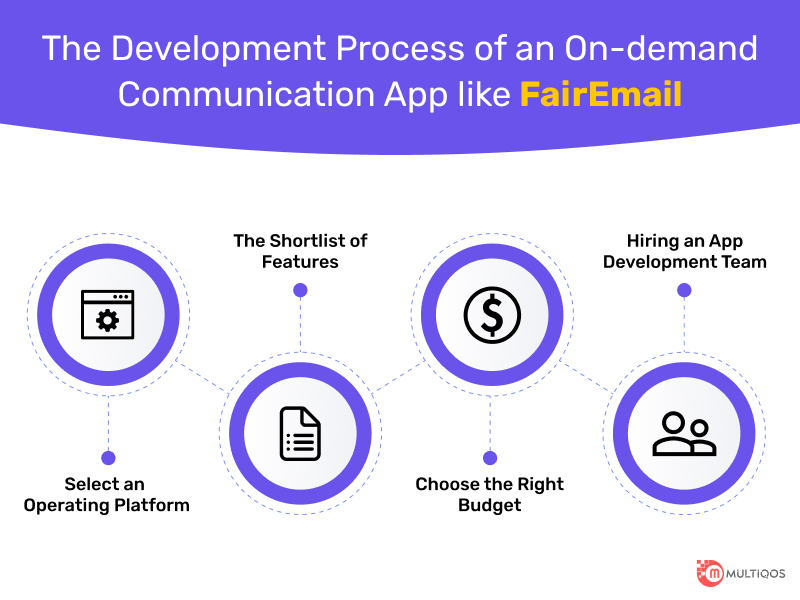 The process of mobile app development is dependent on its complexity. Therefore, you will need to hire a mobile app developer in USA who can manage the task.
Select an Operating Platform
App development will be easier if you decide on the operating platform for launching your app. Choose a platform that is appropriate for your demographics, geographic area, and target audiences. Both Android and iOS apps have different markets.
The Shortlist of Features
Your communication app's success will depend on the features you choose. Businesses are often confused about how to select the right features. What distinguishes your app from its competitors can be listed here. Your app will easily compete in the market if you have the right features. It is worth hiring a ios and android mobile app developer to handle this stage professionally, and they can combine the best elements with affordable alternatives.
There is no standard app cost for developing apps like FairEmail as many factors affect app development price. The final cost estimate will depend on the features included, the complexity of the app, and the development team that you hire.
Hiring an App Development Team
Whether or if your software is a hit is entirely dependent on the developers' abilities. A communication programme like FairEmail will require the assistance of experts. This includes project managers, business analysts, iOS/Android app developers, and highly professional analysts.
Features to be Considered
In terms of exchanging information across the globe of business, email is the most primary source of communication. Today's business environment is mainly focused on email, and 86% of employees cite email as their preferred method for business communications. Since email is essential for communication in business, it's necessary to be aware of the advanced capabilities of email on the market and what they can do for your business.
It is possible to create communication apps with an initial set of capabilities like other apps. Do you want to know how to make an application for messaging most straightforwardly? You can create a new, basic chat application and add the following functions.
With the number of emails sent and received every day, it's easy to miss important messages if your inbox has been overflowing with spam and other emails that are not relevant. When an important email comes in, it is crucial to locate it immediately. With advanced search options, your inbox will be efficient in removing only those emails that are important. The feature built into the program allows users to define criteria based on precisely the information you're looking for, even when that content is an attachment. Further, the advanced search feature is highly customizable and advanced; the advanced search feature will ensure you don't forget an important email.
Transparency through Team Overview
If you and your staff work together on crucial messages for customers and potential clients, it is essential to ensure everyone is on the same level. With the overview feature for your team in the communication application, you'll have the capability of seeing who has opened, forward, or printed, deleted, edited or received, and filed, or even posted comments on emails. This gives leaders and coworkers transparency and analysis like you've never before, providing a clear picture of what's happening to your company's business email. When you begin to take advantage of this information and data, you'll be unable to do without these insights.
When receiving thousands of emails in an inbox shared with others, tasks or requests are often lost in the shuffle or forgotten because of a lack of responsibility. To-Do Lists and tags let team members and leaders delegate work to their colleagues. This degree of collaboration and accountability for every email thread can bring about incredible efficiency gains that increase revenue and decreases the chance of work overlaps. Enabling your team to delegate responsibility to each other and control workflows will save time scrolling through endless threads that are already owned, acted upon, and done.
Also Read: Complete Guide on How to Build a Church Mobile App
What Is the Cost of Building a Communication App?
The final price of a communication app development project is affected by many factors, such as design, features, development company, and mobile app development services. Cross-platform App Development can be a great way to save money if you have a limited budget for MVP development. This approach allows you to reach a wider audience without platform restrictions, but the user experience may not be as great as the native app.
Tech Stack for App Development
The technology stack available can influence how you create a communication application and what features you can add. Let's explore which technology will help you make the best communication app like FairEmail.
While you'll focus on delivering the essential features initially, you'll need to prepare to scale the app as it expands. This requires choosing a tech platform that doesn't impose any limitations when the time comes for expansion. It is essential to select technology that can provide an efficient system architecture as users and traffic increase. The choice of server or hosting service, database, or even programming language could lead to an impasse or a seamless operation when you grow the app.
Security is essential regardless of which platform you're building your application for. It would help if you didn't relax, as malicious attackers can exploit even the most minor weaknesses. Thankfully, each popular mobile app comes with security features. It's a matter of choosing a well-documented, slimmer, and more efficient framework. Also, it's a great idea to select a toolkit that doesn't need you to write lengthy codes. Security features are a crucial aspect to consider when creating communication apps.
In the initial stages of the development of communication apps, the structure of the solution must be designed and then implemented. When creating an app for communication, it is essential to realize that the app will have to manage and store lots of information, including video messages, text messages, images, files, and text messages of various types.
Complexity is a different concept for developers, and if an app is designed with several UI elements doesn't mean it's complicated. The complexity reflects how it interacts with basic mobile features and communicates via the webserver.
If you're creating an application that requires data caching, it's best to choose Native mobile platforms. Native app technology lets users access features specific to your device, something that isn't feasible if you're working within a cross-platform platform.
Cloud synchronization is one of the methods to distinguish your app from your competitors. Cloud synchronization ensures that all records, including video, text messages, and other media files, are synced across different devices. Additionally, if someone is unable to access their device due to loss and would like to retrieve their files, it's possible through cloud sync. 
Native or cross-platform apps
The first step is to determine if you'd like to develop an app native to the device and one which is a hybrid. It could appear like a good idea to create a hybrid application; however, the reality isn't the case. Native apps provide the perfect performance and an improved user experience and add advanced features. However, hybrid apps are not as robust in capabilities and cannot guarantee flawless performance on every device.
Do you want to know how to build an app for communication users enjoy using? Notifications can turn people who have never used your app into your most committed. When creating communication apps, consider pushing notifications as a requirement for your app's solution.
Also Read: What's the Difference Between B2B Vs B2C Mobile App
Design, Development & Testing
Begin with the design of the application. Suppose you examine the user interface of the FairEmail app. In that case, you'll see that it doesn't come with a dazzling appearance but rather a straightforward and practical style that professionals would like. Because the primary purpose of any application for communicating, such as FairEmail, is to allow users to send or receive emails from multiple accounts quickly. It doesn't require an elegant appearance. Get your mobile app's development team to incorporate a straightforward design that concentrates on the primary features rather than clogging the layout with unnecessary images.
Once the design process is complete, the next step is to implement what you've learned. To create an efficient application, you'll need assistance. In this instance, too, there are three choices: the first of delegating the development process to an internal team. When you develop in-house, the issue is less coordination, more extraordinary expenses, and a longer time to build.
You can opt for the other option, which involves hiring a team of freelancers, but keeping every team member on the same page with constant communication is not an easy task. If coordination isn't executed correctly, you'll have a product that doesn't satisfy your company's needs. The third and most practical alternative is to engage a trustworthy mobile app development company with the relevant experience and an entire development team. They offer a range of attractive models that can be incorporated into your budget and deliver the highest quality of work.
The final and most crucial step is to try the app before launch. If you release your app on the market without testing it, it may harm the impressions of your brand. Before making your app available to the public, you should thoroughly test it for a variety of aspects.
Develop Your On-demand Communication App with MultiQoS
According to the market statistics, on-demand communication apps are a bright future. If you're thinking of developing an app similar to FairEmail, it is the right time to do so, and you are good to go with the current market favorable to you. 
MultiQoS is a well-known technology company with a global presence that offers a variety of enterprise-ready mobile and web solutions. They know the business requirements to create an application that will meet your needs and the user's requirements with their years of expertise.
They have a team of highly experienced engineers and developers who possess an extensive understanding of the latest technology to create a reliable solution for your company. The impressive client retention rate shows the quality of service they offer. 
Conclusion
As you can see, there are a lot of things to consider and a wide range of options to choose from. The design of your communication application will appear as just a matter of imagination.
But you must choose reputable developers or an experienced company for software development to develop your ideas. With many years of experience creating instant messaging app development, the MultiQos team of engineers can assist you.
Let's Create Big Stories Together
Mobile is in our nerves. We don't just build apps, we create brand. Choosing us will be your best decision.
FAQ on Building Communication App
Build Your Team
Book a Consultation Now!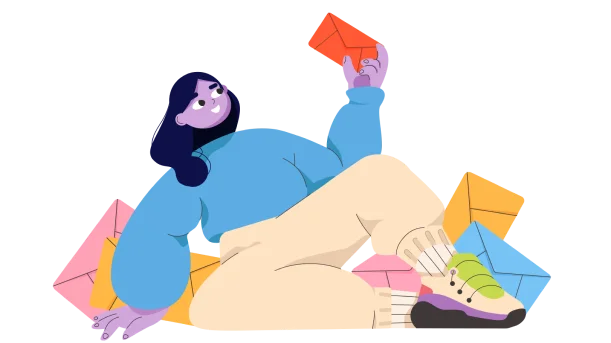 Don't Miss Out!
Your Inbox's New Best Friend. Subscribe Now and Never Miss a Beat!
Read More Blogs