Mobile App
How to Develop an Online Movie Ticket Booking App like BookMyShow? A Quick Guide
In earlier days, people have to stand in long queues to avail tickets for events and movies. However, with the steady advancement in technology, nowadays, people can book movie tickets…
24 September, 2021
5 minutes read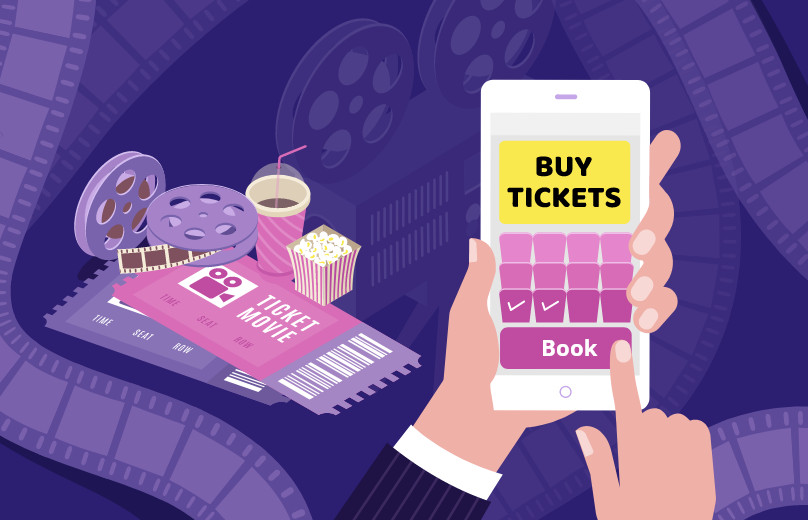 In earlier days, people have to stand in long queues to avail tickets for events and movies. However, with the steady advancement in technology, nowadays, people can book movie tickets on the move or from the comfort of their homes. There is no denying the fact that online ticketing and reservation apps are flooding the current market. 
On the other hand, the automation of ticket booking is advantageous to both customers and theatres. Though the pandemic is playing spoilsport with people's outside entertainment venues, things are likely to come back to normalcy. And when that happens, these ticket booking apps would be back in high demand.
With the help of web and mobile development company, entrepreneurs are offering new ways to engage with their users. An online movie ticket booking app can help you earn well. Also, the app development idea is extremely valid as the future of ticket booking apps looks good. No doubt, BookMyShow is India's largest online movie and ticket booking brand. 
In simple words, it has pioneered the way we book online tickets in India. Quite interestingly, the app began its journey with movies. However, with steady demand, people could book various types of events happening in their respective cities. 
Being a movie ticket booking app, it has an intuitive UI which attracts users. Launched in 2007, BookMyShow is one of the most popular platforms to nook movie tickets. So with these things in mind, let's take a look at the various aspects of developing a movie booking app like BookMyShow.    
Important Things to know about the Business Model of BookMyShow 
Before consulting a mobile app development company and developing an app like BookMyShow, you should be aware of its business model. Always remember that revenue is one of the crucial aspects of developing an app. 
If you don't have a business model, your app would fail to earn revenue which can be detrimental. So here are some important things which you should know about the business model of the BookMyShow app. 
Promotion and Advertising 
No doubt, online booking apps are popular. But always remember that heavy traffic doesn't assure you with booked tickets. Any cinema ticket booking app you see today comprises an effective advertising model to keep the users engaged. 
Commission related to Ticket Booking 
Always make sure that the ticket booking app levies a commission when users book tickets through the app. In simple words, the online movie ticket booking apps provide a good amount for every investment done. 
Merchandise Distribution 
Quite impressively, BookMyShow has collaborated with brands to sell its merchandise. For instance, it is collaborating with a store named Fanhood where the movie buffs can explore through a variety of Marvel, Disney and DC superheroes. 
Money earned from Event Management 
The mobile app development services can make your ticket booking platform responsive which would increase its popularity eventually. However, if you want to earn steadily from the app, you should have event management services linked just like BookMyShow. 
This usually adds to the revenue of the business. So as you can see, there exist a plethora of ways in which you can recoup the expenses and make profits after developing easy movies ticket booking apps. 
The Features of the Online Ticket Booking App:
It is important that you consult a top mobile app development company to accomplish the targets set with the movie booking app. But at the same time, you should be aware of the various features that are associated with an online ticket booking app. 
Without knowing about the features, you wouldn't be in a position to communicate your preferences to the app development company. So here are some important features of a ticket booking app you should be aware of. 
Features for Users 
Registration for Users along with Log-In 
To book a ticket, the users are needed to register with your app. Moreover, they have to edit basic details like name, age, contact details, email ID, phone number, etc. So if you are consulting android app development services, you should communicate to them about your preferences. For instance, the developers should let the users see these credentials to log in and reserve tickets. 
Location of the User 
This is an essential feature which you should communicate to the iOS App Development Services. As the name suggests, it enables the app to depict events happening around the user. You can set the location either manually or automatically to make the app more user-friendly. However, the app should ask for permission to access the GPS of the smartphone from the user. 
Home Screen of the App 
Always remember that the most important component of a movie ticket app android is its home screen. Usually, the home screen displays the list of events and shows. Quite interestingly, the home screen is an area where you can improve your UI to improve the overall UX. 
For instance, you can split the home screen on the basis of events and movie shows. While you create an online ticket booking app, you can facilitate the users with a variety of filters. Some of the basic filters for a movie booking app are ratings, offers, price, etc. 
Role of the Booking Screen 
Another important component of any ticket moving app is the booking screen. Once the user commences with the final booking process, he/she would be directed to the booking screen. For movie shows, they would be able to select the seat of their option. Also, you would be able to provide important information to the users via the booking screen. For instance, you can mention ticket prices, venue, etc. on the booking screen. 
Payment 
Always remember that people prefer various modes of payment. So ensure that you offer them a variety of options like UPI, net banking, credit/debit card, etc. The more the number of payment options you have, the more would be the popularity of your movie booking app among users. 
The Factors which affect the Cost to Develop Ticket Booking App.
Here are certain factors which affect the cost to develop a ticket booking app. 
Platform
Movie ticket booking websites are becoming popular because of the platform in which they operate. Remember that there are two major platforms in the form of Android and iOS. Both have their unique advantages when the context is about attracting customers. But always remember that android app development is affordable when compared to iOS app development. If you want to increase the popularity of the app, you should develop it for both platforms. 
Features 
The number of features is a crucial factor affecting the online ticket booking system app's cost. Note that the development cost would increase with the increase in the number of features. If you have constraints related to the budget, one should implement the important features. 
Conclusion 
So as you can see, movie ticket apps are gaining popularity among the present users. With things starting to get back to normalcy, it is a matter of time when users would want a dedicated platform to book tickets. You should also select a developer wisely to make sure that the development of the online ticket booking is as per the latest standards. 
Let's Create Big Stories Together
Mobile is in our nerves. We don't just build apps, we create brand. Choosing us will be your best decision.
Your Trusted Tech Partner!
We develop digital products that enable you to embrace innovation and unlock opportunities.
Talk To Our Experts
Subscribe
Newsletter
Get our latest blog posts, research reports, and thought leadership straight to your inbox.