Mobile App
How to Create a Dating App Like Tinder And How Much Does It Cost?
Things have changed drastically in the last few years. With the increasing proliferation of the internet along with the evolution of mobile devices, people prefer doing a majority of things…
21 October, 2021
5 minutes read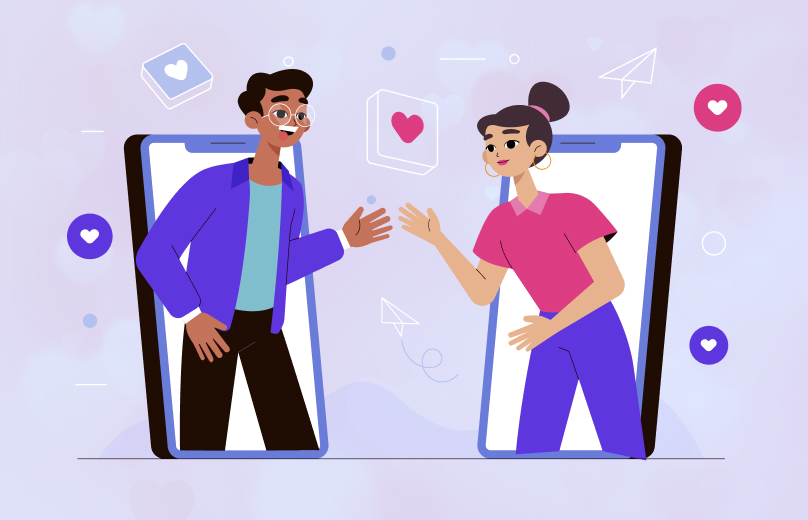 Things have changed drastically in the last few years. With the increasing proliferation of the internet along with the evolution of mobile devices, people prefer doing a majority of things online. Gone are those days when people used to fall in love at first sight. Nowadays, we have apps like Tinder to fill this gap as it lets us find the person of our choice. 
With Tinder, love is just a tap or swipe away. The popularity of dating apps in recent years can 0be attributed to mobile app development best practices. Developers are creating high-quality apps which can keep the users entertained and relevant. In case you don't know, Tinder entered the mobile app market in 2012. 
Since then, Tinder doesn't have to look back as it was able to capture the attention of the users. Like most other things, dating online has become one of the popular activities of people. So are you wondering how to make an app like Tinder? 
Well, you have to be aware of various intricacies related to dating apps before knowing about the development process of an app like Tinder. You should also be mindful of the fact that social dating is becoming a mainstream activity among people nowadays. So with these things in mind, let's take a glance at the steps on how to create a dating app. 
A Brief Overview of Tinder 
Tinder allows the users to swipe left or right based on various profiles to find a possible date. Note that the people would be shown on the basis of geographic proximity. When both parties like each other, they can chat and take the conversation further. So as you can see, it is not at all easy to create an app like Tinder. 
Nowadays, the Tinder app is up and running in a large number of countries. There is no denying the fact that Tinder is the top grosser among all the dating apps in the world with large profit margins. But remember that developing a dating app like Tinder is not that difficult either. Let's take a glance at the business value of developing apps like Tinder with the help of mobile app development services
What is the Business Value of developing a Dating App?
Creating a dating app with the help of a mobile app Development Company can be a highly profitable business. In case you don't know, Tinder generates a large amount of traffic as it has a global audience from across the world. Moreover, always ensure that the dating app should touch the lives of people to exude value. 
What's more, the dating app should be able to provide unique benefits to the users. Always remember that designing and developing a dating app would help you earn a fortune if everything is executed in a planned manner. Quite interestingly, the execution of the ideas has to be perfect to make the app popular. So if you are wondering how to make a Tinder app, the following points would be helpful. 
Selection of the Niche 
Like any other application development, the development of dating apps also requires the selection of a niche. The realm of mobile application development always requires the proper selection of a niche for app development to be successful. Here are some of the ways through which niche selection would help you. 
You wouldn't be able to face stiff competition from other dating apps

Your target audience would have the ability to identify the app

You would be able to stay ahead of your competitors and garner success in the domain of dating
Quite interestingly, you can make an app like Tinder for various niches. This usually includes domains like the LGBTQ community and people above the age of 50. The ideal option is to develop a dating app based on particular preferences. For instance, in the category of food, you can create a dating app for vegans. 
Select the Tech Platform for your Dating App 
After you have selected the niche, you should choose the tech stack for your app. When people usually ask how to build a dating app, they tend to lose focus on the technology stack of the app. But always remember that while selecting the tech stack, you should always consider scalability. 
Do you know why it is important to consider scalability? If you don't take into account the context of scalability, your app would face issues in the future related to updates. Nowadays, Tinder hosts their data on Amazon web hosting to provide people with a seamless user experience. With growing users, it is certain that you would update certain features of the app. 
So always opt for a tech stack that would let you update these changes easily. There are specific things you should consider when creating a dating app like Tinder. For instance, the programming languages should be Java, Kotlin, Swift, React, etc. On the other hand, the frameworks should be React.js or Node.js. 
Always go for Amazon cloud storage. Moreover, the general utilities should include Google Maps, Google Analytics, etc. Always remember that there is no such compulsion to follow the tech specs as mentioned above. You should go for the ideal tech specs on the basis of your requirements. That's why it is a good idea to consult reputed mobile app developers for the development of your app.   
Select an Appropriate Business Model 
When you are on the lookout to create a dating app, you should be aware of the various business models on which your app can be based. Here are some of the popular business models which you should be aware of. 
It is important to know about this model before being aware of how to build a dating app. In this model, the dating app offers a majority of features free of cost to the users. You would be able to earn revenue by showing in-screen ads. 
You should be aware of how to make a dating app to ensure that the application is free from glitches. There is no denying the doubt that a large majority of users love to send friendly and unique emoticons to their matches. Also, you can generate revenue by asking your users to boost their profiles for a specific duration. This is a popular way by which Tinder earns a lot of revenue. 
The Premium Business Model 
Creating a dating app and earning revenue from it should be your main criteria apart from the app's responsiveness. In this business model, the users would be able to enjoy free along with advanced features. For instance, Tinder offers two subscriptions- Tinder Plus and Tinder Gold. In both these subscriptions, Tinder usually offers several types of advanced features like rewinding your match, super-boost, etc. Building a dating app on the basis of this business model should be your ideal option. 
How Much Does It Cost to Make a Dating App?
At MultiQoS, we strive to keep our clients updated regarding the dating app development process and next steps. The following are the portions that affect the cost of developing a dating app like Tinder:
Quality Assurance Test

Features and Functionalities

Technology stack

Platforms and Devices Integration

Distribution and Maintenance
Given the features found in the Tinder app, it's reasonable to predict that developing apps like Tinder will cost between $35,000 and $45,000. However, a very approximate estimate. A variety of things can influence the cost of developing a mobile dating app.
Now that you have a comprehensive knowledge of the Tinder app future market, the important things to consider while creating a dating app like Tinder, and a close estimate of the Tinder cost, it's time to put that insight to good use. 
Conclusion:
The dating app sector is fast rising as a business. If you've been considering creating a dating app, now is the moment. If you want to make a dating app, you should be aware of two of the most essential resources. One is financial resources and the other is a highly experienced team of mobile app developers. So contact a reputed mobile app developer and realize your dream of developing an app like Tinder. Contact our team of mobile app development professionals to get your Tinder clone app developed.
Let's Create Big Stories Together
Mobile is in our nerves. We don't just build apps, we create brand. Choosing us will be your best decision.
Your Trusted Tech Partner!
We develop digital products that enable you to embrace innovation and unlock opportunities.
Talk To Our Experts
Subscribe
Newsletter
Get our latest blog posts, research reports, and thought leadership straight to your inbox.