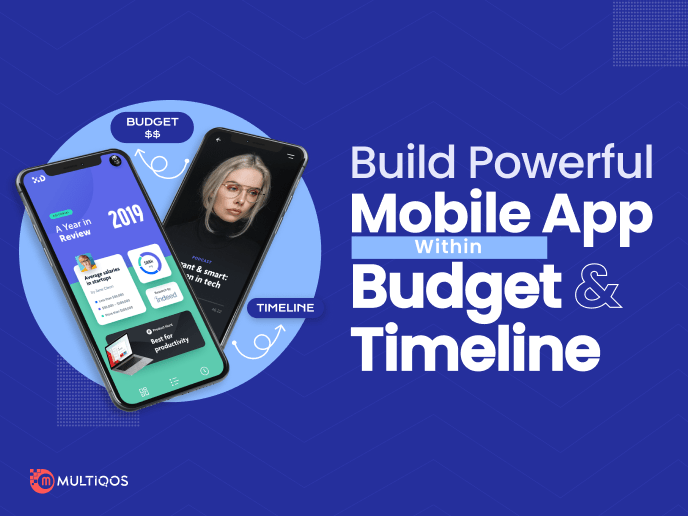 Mobile App
How to Develop an App for Your Business on a Tight Budget and Timeline?
Overview In today's environment, apps are fantastic investments for any business.  For certain markets, business mobile applications boost consumer engagement and retention rates. Businesses may now access far wider audiences…
Prashant Pujara
Overview
In today's environment, apps are fantastic investments for any business. 
For certain markets, business mobile applications boost consumer engagement and retention rates. Businesses may now access far wider audiences because of the massive mobile user base. However, the high costs associated with developing mobile applications prevent many organizations from making the necessary investments. 
Honestly, there is no such thing as cheap mobile app development solutions, so if you happen to have found a business that provides inexpensive mobile applications, be ready to expect the same level of quality. However, this does not imply that launching software on a shoestring budget is impossible. Even while it requires much planning, it is undoubtedly possible.
How Much Does It Cost to Build a Mobile App?
Well, the cost of a mobile app relies on the features you need and the techniques you use to have it produced. According to well-known surveys, the typical mobile app development cost ranges between $100,000 and $500,000. The good news is that the typical minimum project size is between $5,000 and $10,000.
If you want to hire a mobile app development company, you must consider the following:
Features and Capabilities:
The discovery phase is crucial since it entails setting objectives, comprehending the extent of the task, and identifying the functionality, important features, and utility that may improve and expedite company operations.
Features and Capabilities:
The platform you choose will depend on the issue you are trying to solve, which calls for various strategies. The sort of platform for your app will help you estimate how long it will take to create.
Third-party Integrations: 
Based on the options your app will have, the price may increase noticeably. It is possible to simplify and optimize the amount of features using cost-effective app development in the MVP manner. 
Tools are required to design secure software and find faults and vulnerabilities. Depending on the sensitivity of business data and documents, it is especially prudent to invest in the security of corporate mobile apps.
Also Read: How Much Does It Cost to Develop a Custom Mobile App in 2024
Top Tips to Build a High-Quality Mobile App with a Limited Budget & Time
Set Clear Goals and Reasons for your App
Proper planning is the first and one of the most crucial aspects of adhering to a predetermined budget. As the foundation for the remainder of the project, this phase should not be taken lightly.
Planning in a hasty and careless manner might result in the omission of important information and vital events. It can result in extra costs. That is why conducting strategic planning is crucial. Setting precise objectives and identifying critical components that affect the app's performance overall as well as its cost as soon as the first concept for it emerges is crucial.
You may start by focusing on:
Your target market

Your product to that of your competitors 

List of essential app features

Monetization plan
A good mobile app has a solid foundation, and the examination plan should make sure that unnecessary stages and features are left out. As a consequence, the business is able to prevent unexpected costs and budget overruns.
Choose the Right Developmental Partners
Today, there are many different ways to create an app. You can use mobile development shops, independent contractors, or full-service development firms. The mobile app development team chosen for the project will have a huge influence on the effectiveness of the app, its quality, and the likelihood of keeping within the parameters of your budget. So, you absolutely need someone you can rely on. So, you might be wondering how to pick the best one for your company.
Asking the correct questions can help you rapidly identify warning signs in the responses to look out for and cut down your options. Basically, the most important things to consider are:
Industry knowledge

Depth of expertise in comparable projects

Strong portfolio

Project management abilities
Find a firm that can design a mobile solution that will be successful and that speaks your language, and comprehends your business goals.
If money is tight, think about creating a Minimum Viable Product (MVP) rather than launching an app right away. This strategy enables businesses to release the application with a minimal set of functionality suitable for the target market.
It is preferable to initially establish the shortened functionality, which will only comprise a few critical elements, in compliance with the MVP idea. By releasing an MVP app, you may gather user input, more correctly predict market demand for the new product, and validate the entire concept with little financial outlay.
Spending extra money on the fully featured app is conceivable when the software has been verified in the real world. In the end, MVP reduces the possibility of initially overspending, conserves time and resources, and improves ROI.
Choose the Right Platform
The goal of reaching as many consumers as possible is undoubtedly a worthy one. However, if you're working on a mobile app with a tight budget, it could be more prudent to start out by concentrating on a single platform. Targeting both the Android and iOS platforms at once is costly and takes more time; it will do little to reduce development expenses.
Target surveys and market analysis are the greatest ways to select the optimal platform for the new application. Learn which operating system your app's consumers prefer and which platform best fits your development plan in terms of budget. 
Depending on your needs, there are a variety of mobile development methodologies that can assist you in producing the finest product. In general, higher performance is implied by having a unique mobile app for each operating system. However, the cross-platform app development technique simplifies and brings apps to life. With a consistent look and feel across several platforms, it can enable your businesses to create brand awareness more quickly.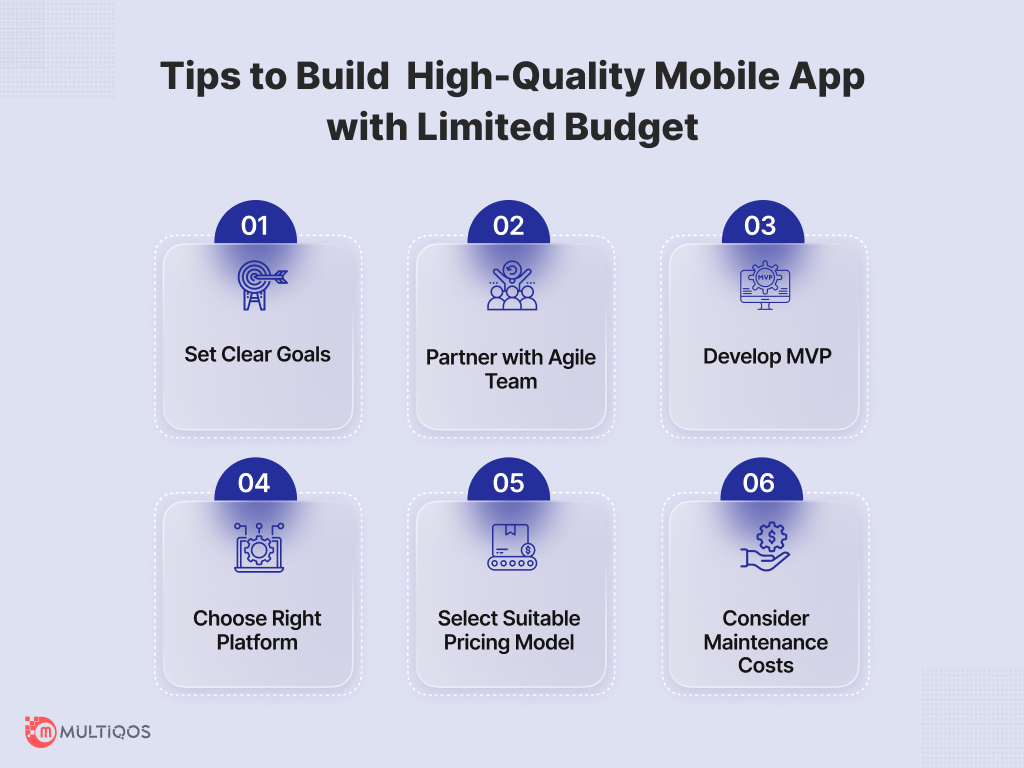 Keep it Simple, Intuitive, and Unique
When creating a mobile app, the urge to include as many features as possible and provide the greatest user experience is common. But in reality, having more features does not always equate to better usability or bigger advantages for clients. Contrarily, the creation of a mobile app might take longer and be significantly more expensive when complicated and numerous aspects are included.
Instead of developing a comprehensive, all-encompassing solution, focus on the distinctive qualities that will make your business stand out from rivals. You can add distinctive and clear features, and order them based on user requirements and development costs. Minimal design and hassle-free navigation are incredibly beneficial for user experience in addition to practical simplicity. The greatest way to advise users and ensure their contentment, which ultimately results in their support of your software, is via clarity. Further, a complex design can also raise the price.
Select a Suitable Pricing Model
The pricing model should be taken into account as well when creating a mobile app on a tight budget. The cost-effectiveness and general success of the Anroid or ios app development project depend on you choosing the correct payment method for your outsourcing partner.
In general, fixed and hourly pricing structures are used. It is crucial to comprehend the distinctions between these two ideas as well as the strategies and characteristics of growth that each one offers in order to make the best choice. Examine app preferences and needs in relation to this decision with your development partner.
Fixed price appears to be the best option in the majority of circumstances with a limited budget. Keep in mind that this model is less adaptable and does not provide any options for app modifications at free additional expense. However, some development firms don't charge anything for little changes or alterations.
Consider Maintenance Costs
An app's lifespan includes not only the development phase but also the implementation and maintenance phases. Thus, it is prudent to include pertinent costs in the budget. As they solely concentrate on the development stage, such expenditures are frequently not anticipated by many businesses considering a new application. Your budget may be considerably impacted by app maintenance. So, understanding the maintenance costs upfront will enable you to exactly manage the app budget.
It is typical to allocate 20 percent or more of the annual budget for app development to software maintenance. For instance, if app development costs $100,000, then budget $20,000 to $30,000 for ongoing maintenance. Updating, fixing bugs, making minor adjustments, and adding new features are all examples of app maintenance. Typically, your software development company gives you an approximation of these costs and makes recommendations for how and when to upgrade your program.
Also Read: How to Get More Customers for My Business: Top Effective Ways
Build the App with a Limited Budget with MultiQoS
If you have a great app concept and want to speak with specialists to obtain a free estimate on how much it will cost, how long it will take, and what technique is ideal for building an app, email us or submit your question below.
MultiQoS is glad to provide a high-quality application at a reasonable cost because of its years of expertise in mobile app development. You can contact us to schedule a consultation. Regardless of how complicated your project is, our team of experts would be more than prepared to help.
Wrapping Up!
When all of the aforementioned information is taken into account, custom mobile app development might be far less expensive than most people may believe. You can create a mobile app with a small budget if you have the appropriate plan and method.
Setting the standard for the rest of the processes is a good start. Because of this, it's crucial to develop a distinct vision for the future app, comprehend the logic behind it, and establish clear objectives. At this point, the appropriate development partner is crucial and may provide you valuable insights to create a fantastic app, not to mention subsequent stages of the application life-cycle.
Ready to Build a Mobile App?
Experienced team crafting top-notch iOS and Android apps for diverse industries.
FAQs on How Build Your Mobile App On Limited Budget
Yes, the majority of the apps we create are compatible with both iOS and Android. People typically want their applications to run on both mobile and web platforms, therefore we use development frameworks like React and React native to enable both quickly.
In the past, businesses could have decided to create applications that support just one platform. Because both the Android and iOS platforms have large market shares today, most firms choose to develop apps that are compatible with both.
Your mobile app development solutions can work with you to construct the app if you have a web designer and ready-made visuals. The development team would be pleased to assist you with visualizing and turning your ideas into digital reality if you only have an idea or concept.
Build Your Team
Book a Consultation Now!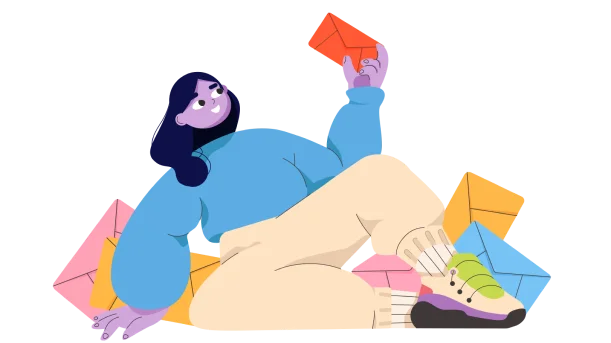 Don't Miss Out!
Your Inbox's New Best Friend. Subscribe Now and Never Miss a Beat!
Read More Blogs