Mobile App
Telemedicine App Development – The New Dimension of Healthcare Industry in 2023
Jenny had been suffering from knee pain for the last few days. As she worked from 9-5 and looked after 2 kids, she had no time to visit a doctor.…
14 April, 2021
5 minutes read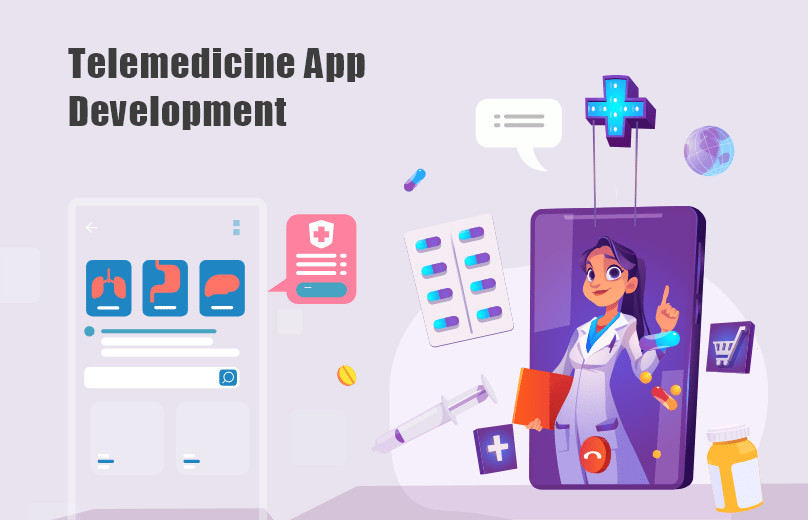 Jenny had been suffering from knee pain for the last few days. As she worked from 9-5 and looked after 2 kids, she had no time to visit a doctor. When the condition got worse, she finally downloaded a telemedicine app and booked an appointment online with a knee specialist. The doctor diagnosed her over video conferencing and suggested a few medicines. She was happy to get great relief in just 3 days.
Telemedicine apps are becoming popular among patients and healthcare providers in the last few years. Telemedicine app development is transforming the healthcare industry as it brings in a lot of innovative solutions for patients and caregivers. Such apps facilitate easy communication between doctors and patients. Elderly patients who need checkups and consultation can book appointments with physicians and get solutions instantly. There's no need to wait for a few days to weeks for appointments with specialists.
Why Invest in Telemedicine App Development?
Due to the COVID-19 pandemic, a lot of patients worldwide suffering from chronic ailments could not make appointments and visit their doctors and clinics. Telemedicine mobile application development can resolve such issues and promote patient safety. There is a growing need for telemedicine software development to help patients get healthcare services from the comfort of their homes. Even the doctors and clinics are looking to provide healthcare services to patients from a distance due to the risk of coronavirus outbreaks.
Some facts and figures
Global healthcare spending may rise at a CAGR of 5% by 2023. Source: Deloitte
According to Epocrates, 1 in 2 US physicians use medical reference apps.
According to Statista, the telemedicine market will grow to 5.4 billion U.S. dollars by 2025
This is the right time to invest in telehealth app development to deliver virtual care to patients. For all those reasons, many MultiQoS clients turn to telemedicine app development.
Let's Dig Deeper Into the Benefits of Telemedicine Apps:
How do telemedicine apps help Patients?
Greater convenience
According to a recent study, more than 75% of hospital and clinic visits are basic and can be managed via phone or video calls. Offering virtual on-demand patient care helps to save a lot of time and cost as compared to in-person visits. Patients suffering from minor health issues like cold and flu can use such telemedicine apps and connect with doctors to get medicines prescribed in a couple of minutes.
In today's busy lives, working people may not have time to visit clinics and hospitals for minor health problems. Homebound people may avoid booking an appointment for basic issues they face. Mobile apps and video conferencing can connect patients with healthcare providers and start living a happy life.
On-demand options
A lot of physicians offer telemedicine solutions these days. On-demand options can help patients book online appointments and request consultations (text, audio, or video) as and when needed. Doctor on-demand or online medicine ordering apps can ease the lives of patients and their family members.
Reduced risk of infection
Visiting a doctor's clinic means being surrounded by other patients who may be sick. It may be risky for people who have a weak immunity as they may get infected easily. Telemedicine eliminates such risks of infections as you can consult doctors from your place.
Flexibility
Telemedicine allows people to get healthcare services in the comfort and privacy of their homes or offices. One doesn't have to take off from work or arrange childcare when opting for telemedicine.
Advantages of Telemedicine for Doctors
| | |
| --- | --- |
| Reduced overhead expenses | There's no need to pay salaries for front desk support or nurses and other staff members. Doctors don't need an examination room or office space when they offer telemedicine. Doctors can save a lot of dollars each month. |
| Effective record-keeping and patient management | Telemedicine apps include an effective monitoring system that provides access to patients' records in real-time and helps doctors deliver better treatments. The software stores all information about the history of patients, medical treatments, and others. Doctors can refer to such data and provide better follow up to the patients online. |
| Better patient reach | Doctors, especially specialists, may not be available at every corner of the country. With telehealth apps, doctors can be accessible to patients looking for treatments from anywhere in the world. For instance, a doctor residing in Los Angeles may be able to provide online consultation to a patient who lives in Australia. Telemedicine apps offer greater reach and help physicians and doctors expand their businesses. |
| Improved patient satisfaction | Doctors and clinicians can deliver a personalized experience and improve patient satisfaction with telemedicine app development. |
Now, as you've understood the benefits of telehealth app development services, you may be looking for developing one from scratch. Well, telemedicine app development requires a lot of homework and research to achieve success.
How to Build Telemedicine Apps?
Evaluate your idea
To create an outstanding telemedicine app that can meet the requirements of the patients as well as doctors, you may need to evaluate your idea correctly. Do some research online and try to determine the pain points of doctors, healthcare providers, and patients. Think of why you should create an app and why would the users download it.
Competitor research
Competitive research can help you figure out what features may be required in your app. For instance, if you are planning to develop a doctor on-demand app, download a few similar apps and study their features. Find out what features are really good and what improvements can be made to make your telemedicine app stand out from the competition.
How are some of the useful features of telemedicine apps:
| Features for patients | Features for doctors |
| --- | --- |
| Create and manage profiles | Profile management |
| Appointment scheduling | Doctor panel |
| Video conferencing | In-app messages and notifications |
| Medicine tracker | Scheduling |
| Geolocation | Manage appointments |
| Chatbots | Real-time access to patient records |
| Online payments | Digital prescriptions |
| Ratings and reviews | Dashboard and analytics |
Hire the Best Mobile App Development Company
Discuss your idea with a few leading mobile app development companies and compare their services. When you talk to the agencies, try to understand the process they follow, the kind of expertise they have, the types of app they have built, and the cost of developing a telemedicine app.
Compliance with Healthcare Authorities
You may have to make your telemedicine app compliant with HIPAA and other authorities. HIPAA (Health Insurance Portability and Accountability Act) has set standards to protect patients and their medical records. Collect all the details about protocols before developing a telemedicine app.
Artificial Intelligence
Artificial Intelligence (AI) can be used to add new features to your app to ensure it gets successful. Telemedicine uses speech recognition, chatbots, natural language processing, and machine learning (ML) platforms. These features can substitute real doctors when doctors aren't available and patients need instant help and support.
Big Data
Telehealth apps collect a lot of information about the patients, their history, medical records, and others. With big data, it becomes easy to use electronic health record (EHR) technology to access and analyze the patients' health data and convert it into a readable format. EHR technology can assist doctors in receiving additional information about the patient's health and provide an accurate diagnosis. Using electronic records can eliminate the risks of loss of medical records as they use cloud storage, which is secure as compared to traditional methods of recordkeeping.
Data Security
Blockchain has brought some revolutionary changes in telemedicine. Data centralization reduces the chances of unauthorized access to patient information. Blockchain technology helps doctors and healthcare providers prevent the loss of health records and patients' data.
How Much Does It Cost To Build A Telemedicine App?
The cost of a telemedicine app depends on the features required, platforms, functionality, development approach, and the vendor you hire. You can expect to spend anywhere between $50,000 to $80,000 for building your app. You can choose to hire dedicated mobile app developers to create complex apps for the healthcare industry.
Types of Telemedicine app development
| | | | |
| --- | --- | --- | --- |
| Doctor on-demand apps | Electronic medical records (EMR) | Electronic health records (EHR) | mHealth apps |
| Clinical management systems | Health insurance apps | Fitness apps | Hospital management apps |
Final Thoughts
Telemedicine app development is a rapidly growing healthcare field with a huge demand nowadays, especially after the COVID-19 outbreak. The future of this industry seems bright. Adopting digital solutions and clinical innovations can overcome the challenges faced by doctors and patients. Whether you need a small cross-platform MVP or a large enterprise solution, we can build top-quality telehealth apps. Get in touch with us to explore the opportunities related to telemedicine development.
Let's Create Big Stories Together
Mobile is in our nerves. We don't just build apps, we create brand. Choosing us will be your best decision.
Your Trusted Tech Partner!
We develop digital products that enable you to embrace innovation and unlock opportunities.
Talk To Our Experts
Subscribe
Newsletter
Get our latest blog posts, research reports, and thought leadership straight to your inbox.