Industries
Top Educational Mobile App Ideas For Edtech Startups in 2023
Introduction There is no doubt that online education teaching methods are replacing the traditional learning methods because of the establishment of the new and latest technology. Permission to use various…
3 October, 2022
6 minutes read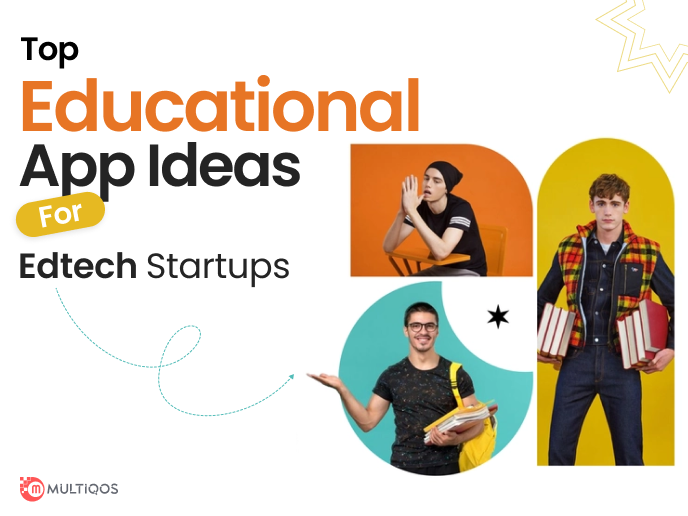 Introduction
There is no doubt that online education teaching methods are replacing the traditional learning methods because of the establishment of the new and latest technology. Permission to use various mobile apps in school is the perfect example of how technology makes learning easy and exciting for kids. Also, the usage of mobile apps for education is bringing a change in the way students learn. Moreover, many individuals are investing in educational app development as it has a great scope in the future.
Nowadays, students are also finding it challenging to manage the drastic changes in the educational system. Many colleges and schools are interested in creating an educational app to get in touch in real-time. However, before getting into various app ideas and the how-to process, it's crucial to do a market overview. We have made it easier for you in the next section.
Education Sector Market Overview
Educational mobile app development is vital in today's world as every individual wants their education and skills to grow. As we all know that more or less, the education system is changing daily, and it has become impossible for the students to cope. We all have noticed that individuals are also using mobile apps for educational purposes.
The educational app development services have revolutionized the whole education system, from detecting classroom issues to communicating well with the teachers, getting education through games and quizzes, and even getting the opportunity to complete the homework on the internet. It has been seen that the concept of educational apps is increasing widely as it is helping both teachers and students.  
Reports say that many educational institutes are thinking of investing in educational app development company as this is a profitable sector. Moreover, experts are claiming that this industry is going to rise. You need to go through this blog to find good educational app ideas.
Benefits of Mobile Educational Apps
An educational app platform is about breaking the entire learning management technologies and systems to offer an end-to-end, customized learning solution. In simple words, an educational app is a software that promotes and allows self-learning and virtual teaching.
Many educational app development companies are working on the process to make the system more accurate so that they can help many individuals get successful in their life. Improved interaction, knowledge enhancement, personalized learning experiences, and ease of communication are some common benefits of educational app development.
Some of the main advantages of developing a learning app include:
Mobility and Portability
Mobility and portability are one of the main benefits that mobile educational apps offer to every user. With this, individuals can carry their devices and use them anywhere per their needs. 
Higher Engagement
We all know that visual texts attract people more than plain text, and students can't focus in the classroom as it is a bit mundane. Whereas educational apps are fun to use, as a result, it attracts a lot of individuals. 
Effortless Teaching Solutions
Educational apps offer an effortless teaching solution with positive results. These apps are suitable for teachers and students, and users can get the entire study material on the app with different syllabus tracking facilities.
If you are planning to develop an app, make sure you have tied knots with both iOS app development and android app development. 
24/7 Availability
Unlike colleges and other educational institutes, these apps can be accessed anytime as these apps are available 24/7. Mobile app developers have created this app so that even if there is a technical failure, it will automatically get resolved within 5-6hrs. 
Also Read: How Much Does It Cost to Make an Educational App in 2023?
Innovative Educational Apps Ideas To Revolutionize Learning
If you plan to develop an educational app, then this blog is what you need. Our mobile app development company professionals have suggested some outstanding educational app start-up ideas that can help the education industry grow. 
Private Tutor App
Students usually prefer browsing the internet to gather resources for their studies. With the use of this app, students will be able to connect with various specialists through the private tutor app, and they will be able to clear out their doubts instantly by questioning the instructor.
Students can also send or receive texts from their instructor using the chat option. You can go through the ideas for an educational app to know more about what to add to your app.
Education Quizzes and Game Apps
We all agree that we can increase students' reasoning abilities and creative thinking by creating an educational quiz and game app. It is a fun application that allows users to participate in various activities and examinations based on their classes.
Users can also increase their knowledge by practicing grammar, mathematical, and general knowledge tasks on the same platform. They can also check their answers and complete solutions immediately without effort.

Examination App
We all know that preparing for exams is one of the most challenging tasks. Prepare yourself for the upcoming exams by creating an application with great learning strategies such as practical examples, solutions to real-life problems, etc. 
Your app should also allow the parents to create a routine list on your application so that you can create proper education guidance for their students. This app is at the top of the on-demand app development list.
App for Disabled Students
An education app development school, college, or institution interested in creating an app for disabled students must consider this option. With the help of this software, physically challenged students can study and learn from their respective places without any casualties.
You should also consider creating a unique program version for children who won't be able to attend the classes regularly. Disabled students should be able to use this application to connect with the instructor at any time and can also be able to download live classes. You can gather a few educational app ideas to develop a great start-up in the educational sector.
Student Community App
It is essential for every student to connect, so a school community app will allow its users to connect, communicate and share relevant information. Moreover, students can also search or request second-hand books, notes, projects, etc.
The development of a sound community app can ease the process of gathering knowledge before exams. Many on-demand app development companies are working on this app as it is a very helpful and profitable start-up.
Career Guidance App
Many students fail to select the appropriate topic for themselves as they don't receive good career advice. We all need a career counseling app to help many individuals in this growing world. A career guidance app will be very effective and helpful in helping students choose the best career for themselves.
The application will allow its users to speak to professionals who would give them complete knowledge about every field, making it easy for them to choose. You can use specific educational app design ideas to create a user-friendly interface.
Language Learning App
This app will not only help you in learning a language but will also expand your vocabulary. If you ask for unique educational ideas that can change the education system, you should consider creating this app. Students can educate themselves about any new language by spending 15-20 mins on these apps.
This app will promote you to the next level only when you pass the exam set by them. Moreover, you can also add on functions that will allow the users to access their strengths and weaknesses so that they can pay more attention to their weaknesses to eliminate the problem.
Also Read:  How Much Does it Cost to Build an Educational App?
Technology Trends Transforming the Education Sector
The pandemic has drastically changed the teaching and learning style. The latest Edtech trends are being revolutionized with a strong focus on versatility, connectivity, etc. Let's go through a few latest trends in educational technology. 
eLearning
This trend became the top educational and technological trend because of the pandemic. In simple words, eLearning is training or education offered online. It can be an online course that helps a company train its employees, and it can also be an educational institute offering classes to the students.
Education content is usually offered through laptops, computers, or smartphones. The decision-making scenario will allow their learners to make their call on what they will learn next.
Artificial intelligence
Al is now in-built in the US EdTech market. Experts are predicting that Al has the potential to become the primary trend in the future, and it is likely to grow by 45%. Many people might wonder why this trend is blasting the market so that Al can automate many activities in the education sector. 
A few other trends include:
Learning Analytics

Blockchain technology

Gamification 

STEAM
Conclusion
Many people have the question, what are the uses of mobile apps for educational purposes like other mobile apps, educational apps also have both positive and negative effects; now it is up to you which one you will adopt. You can use the above-given mobile app ideas for education to develop a start-up that will boom the market.
One common question that every individual asks is what are some educational apps? So, if you plan to develop an educational app, you might take inspiration from Unacademy, Udemy, Byjus, etc.
Frequently Asked Questions (FAQs)
FAQs on Educational Apps Ideas
The cost of the app depends on its features and interface. It varies highly.
It is a difficult job to hire a skilled developer. However, you can look forward to hiring them through popular websites like LinkedIn, Google, etc. Before hiring them, ensure they have adequate educational mobile app ideas.
You can consider developing various types of apps such as tutor apps, bus tracking apps, vocabulary apps, etc.
Without good ideas, you won't be able to create an app that will rule over the industry.
Have An Education App Idea?
Want to verify it for free and get a free consultation?
Your Trusted Tech Partner!
We develop digital products that enable you to embrace innovation and unlock opportunities.
Talk To Our Experts
Subscribe
Newsletter
Get our latest blog posts, research reports, and thought leadership straight to your inbox.