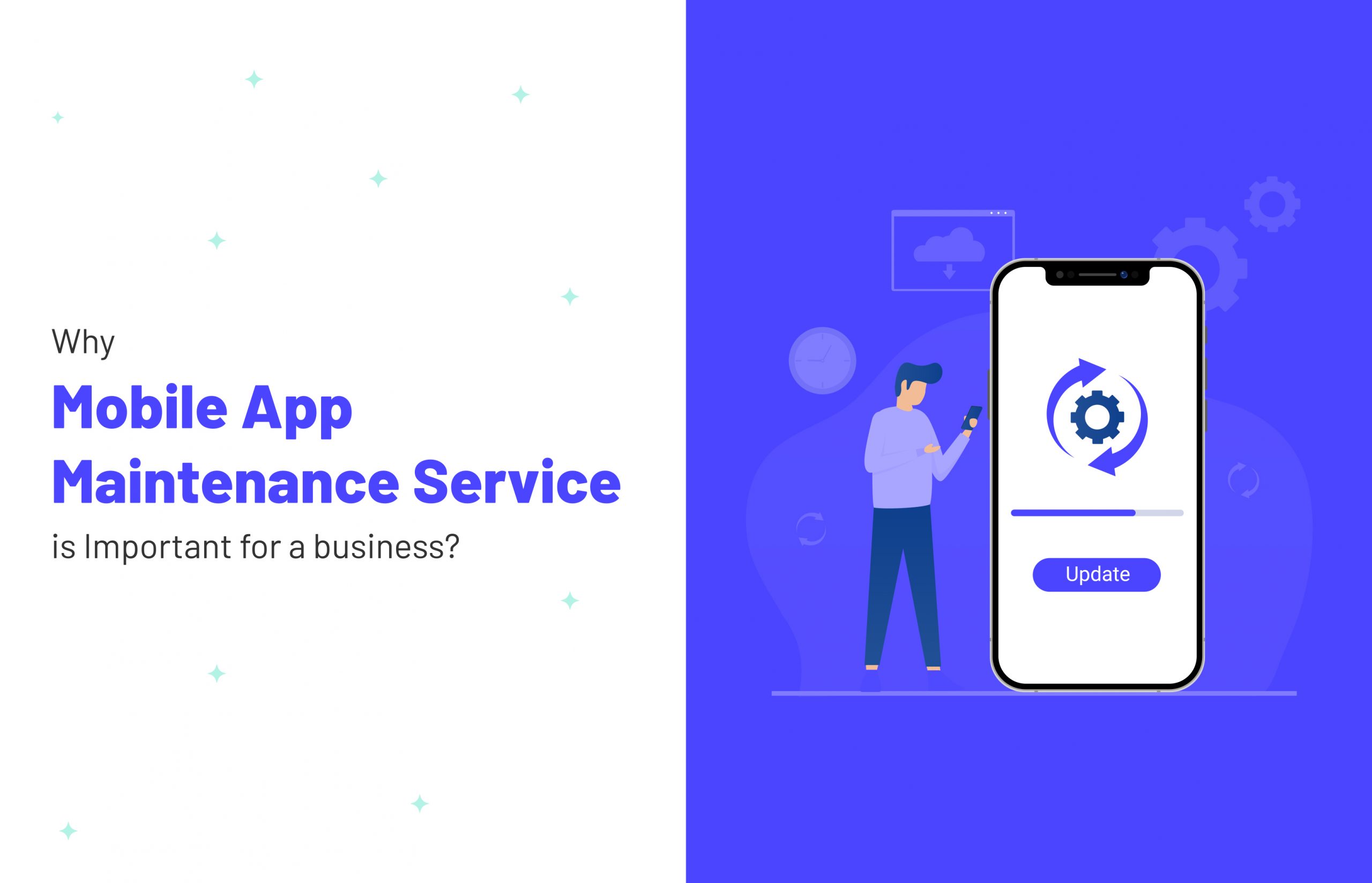 Mobile App
Why Mobile App Maintenance Service is Important for a Business: When and How
There is hardly any need to explain how important mobile applications play a role in our lives. Everything from shopping to education and business has been made possible and easy…

Parth Thakkar
---
There is hardly any need to explain how important mobile applications play a role in our lives. Everything from shopping to education and business has been made possible and easy with the help of mobile applications. Mobile apps can adapt to upgrades and remain up to date in the changing environment with the help of constant mobile app maintenance. Your app must be given regular maintenance and support to keep maximum user satisfaction, interests, and returns. 
Overview
Maintenance and constant updates are compulsory to keep your mobile application at par with the changing and developing environment. In today's era of changes and growth, it is not enough to deliver an app and not be consistent with its updates and support. In 2016, Apple was one of the first to make a record by eliminating 50000 mobile applications that had become obsolete from its App Store.
Mobile app development is easy, and almost anyone can learn to build mobile apps with very little training. However, to reach the desired level of expertise, only well-trained developers can be expected to build highly advanced mobile apps. With advanced technology and a competitive environment, if you don't meet the requirements of your app and keep it updated, your users might abandon it instead of using it. 
Millions of users use multiple mobile applications daily to solve their requirements, find solutions and use the app in various ways in their daily lives. However, they also do not think twice before abandoning the app when it is not giving them the desired comeback. 
That is why investing your time, effort, and finance in excellent mobile application development, maintenance, and support plan saves the purpose of your app and keeps it from becoming obsolete in the market. 
Why Do Mobile Apps Need Constant Updates?
With android and iOS mobile app development, the need is for your business to stay in the long term. To make this happen, your app needs to be at par with the new age requirements of the users. Users today are tech-savvy and have high demands, so they keep checking for new updates in the app store.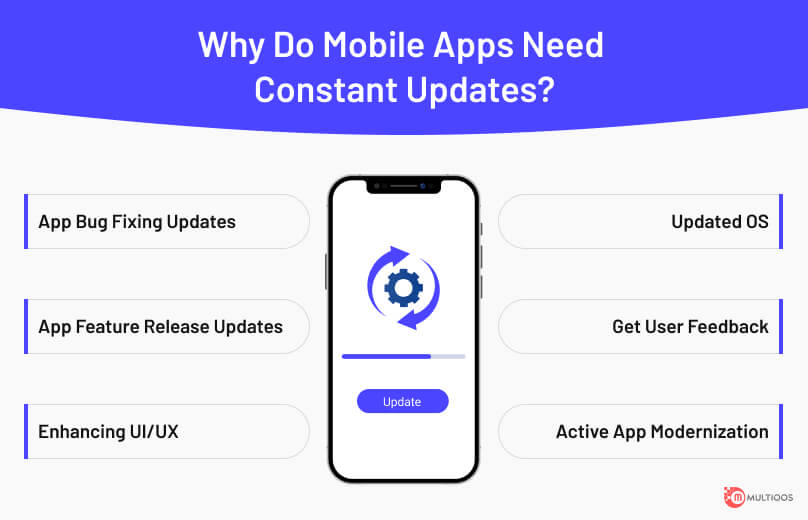 The fact how often you should update your app depends entirely on how frequently you want to add new features.
Here are some reasons why you should keep your app updated constantly:
New trends are being developed every day in the industry. Customers look for new products and bette
r services. You can remove existing bugs and make your users happy by adding new features.
 Renovating your app helps with fast transformation and growth.
To assure that an application is successful, you must eliminate any unneeded features and functionalities and free up the necessary space to allow for future upgrades.
Better user experience is what you ultimately need. Continuous maintenance will help to improve the user experience of an app. Regular updates will assure your customers that you are consistent and care about the needs and experience of your customers. You can improve your app's rating across app stores, ratings, reviews, and overall experience with improvements. 
Also Read: Understanding App Development Cost in 2023
Various Types of Mobile App Maintenance
These are the different types of maintenance:

 when sudden problems arise in your application, and you have to take care of them immediately, you need emergency maintenance.
 This type of maintenance is required to make changes in the source code to offer new features and functionalities to look after user requirements.
 This is concerned with the changing demands of various hardware and software
The developer focuses on reducing and eliminating errors.
You may use this to remedy faults in everyday operation, such as design, code, and logical flaws.
Top Reasons to Consider Mobile App Maintenance Services for Your Business
If you are thinking that investing in the maintenance of your app is not essential, well, you are wrong. While it takes a lot of time, effort, and finance in the process of iOS & Android Mobile Application Development, investing in its maintenance makes sure that your initial hard word doesn't go to waste. 
Here are some reasons why it is a must that you look after the maintenance services of your mobile application:
New upgrades in any iOS or Android increase your mobile application's efficiency, scalability, performance, and security. A timely upgrade of the app ensures quality and testing and minimizes the potential risks simultaneously. If you keep updating your phone's operating system regularly, you will see that apps that have not been upgraded in a long time might stop working in the new version of the OS.
Identifying and Fixing Bugs
One of the significant advantages of mobile app maintenance is that you can quickly identify and fix bugs. Unidentified and unfixed bugs might be the reason for bad code, app failure, unexpected results, and degraded user experience. Regular app maintenance makes your mobile app's code efficient to track bugs and other functionality-related issues and fix them fast to make your app work fine on targeted platforms. 
Keeps Your App Secure from Cyber Threats
All applications are prone to cyber threats and virus attacks. If your app gets outdated, it is relatively easy to hack into your app. On the other hand, apps that are upgraded regularly it's better for the security of your app. It is encrypted with advanced security features; thus, regular mobile maintenance is essential to protect your app from threats. 
Reduce Downtimes to Prevent Revenue Loss
Downtime is a common thing in today's app development market. Even big brands like Blackberry, Bank of America Online Banking, and Amazon Web Services suffer revenue loss. Regular app maintenance can prevent such situations, avoiding substantial revenue losses. 
With rapid technological changes, user preferences are also changing. Tech-savvy users and customers prefer new features and functionalities; thus, regular app maintenance service is an excellent opportunity to target them and your app to keep updated. If your app has what they are looking for, they are more likely to use your app. It takes very little time to uninstall an app but a lot of time and effort to love an application. Therefore, you should focus on giving them the best user experience, better than all other app competitors. 
How Often Should the App Be Updated?
To be very honest, consumers are highly demanding. The development and launching of an app is only the first step of a long-term journey. Expectations from the app market have skyrocketed as a consequence. The services of dedicated developers might be hired to update the app periodically, as in:
This works in accordance with the schedule and provides significant innovations and modifications
App Bug Fixes and Innovative Features

:
These updates are highly responsive to any errors and malfunctions, responding very quickly.
Now, the developers can choose to have the updates released whenever they want, irrespective of the schedule.
As per a  study by Appbot, 200 highest free apps were updated every 18 days to increase their efficiency.
How frequently an application will be updated depends on how much the business targets and functionality of the app aim to achieve. 
Cost of App Updates
Usually, mobile app development is very costly, and so are its updates, and therefore, so is mobile app development. It becomes significantly expensive when you use the services of an in-house app development team, and the developers and testers take monthly salaries. 
In most cases, development partners have a skilled and functional team that is updated with the newest updates. Companies should have a useful insight when the budget is under consideration because it is highly essential to evaluate the cost of maintaining an app.
According to the norms of the industry, the expenses of maintaining an app are around 15 to 20 per cent of the cost of mobile app development.
Surprisingly, most of the app features built for the application's debut are never put to use. Instead, it is best to create a simplistic application and make room for further development based on the user's needs. Thus, it is best to begin with, a lighter version of your app and gradually build some valuable features.
Also Read: A Comprehensive Guide on How to Patent a Mobile App
Final Words
The number of updates in your app determines its ultimate lifespan. If you want an app in which the existing users feel completely satisfied and the new users find unique and exciting upgrades, you are more likely to have your app in the market for a long time. The benefits of mobile apps maintenance are endless.  With timely updates, you will be able to fix all the bugs and issues and be more active in your customer's interests. 
You may now realise that maintaining a mobile app is just as crucial as developing one. You must maintain your app up to date, and it must continually combat bugs. Our mobile app development experts will provide you with assistance and maintenance 24/7. Please contact us at biz@multiqos.com whenever you want assistance, and we will gladly assist you. We provide a periodic maintenance service to guarantee that your app runs properly.
Let's Create Big Stories Together
Mobile is in our nerves. We don't just build apps, we create brand. Choosing us will be your best decision.
Frequently Asked Questions on Mobile App Maintenance Service
Build Your Team
Book a Consultation Now!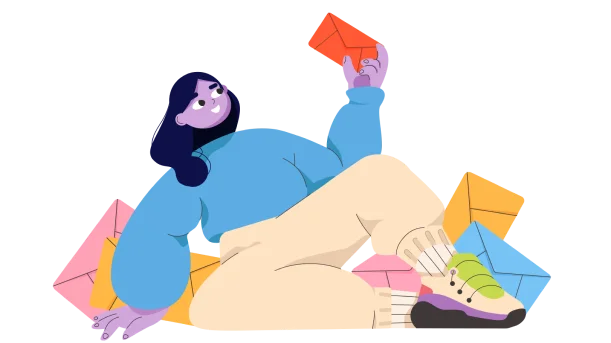 Don't Miss Out!
Your Inbox's New Best Friend. Subscribe Now and Never Miss a Beat!
Read More Blogs