Mobile App
How to Start the Uber-Like Taxi Booking Business – Setup & Business Models
Introduction to Online Taxi Booking Ecosystem Ever since it was first released, the taxi-hailing software known as Uber has been seeing phenomenal growth in terms of user adoption and popularity.…
26 September, 2022
7 minutes read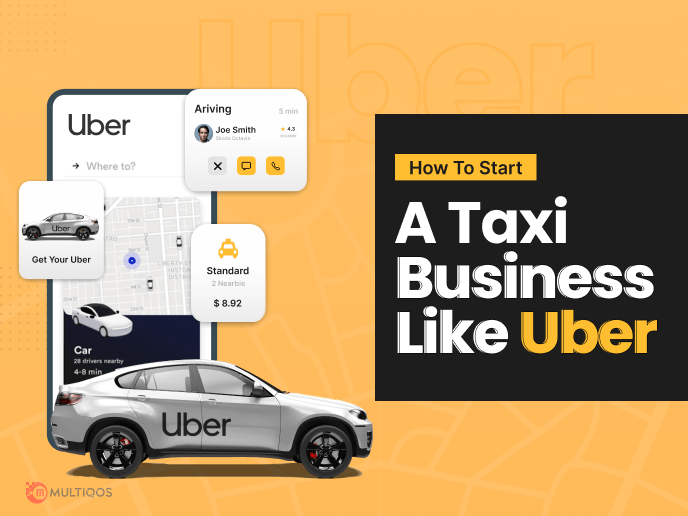 Table of Contents
Introduction to Online Taxi Booking Ecosystem
Ever since it was first released, the taxi-hailing software known as Uber has been seeing phenomenal growth in terms of user adoption and popularity. I am unable to fathom the reasoning behind such a fact. To this day, Uber operates in 633 cities in 78 countries, establishing itself as a phenomenon on a worldwide scale. Fifty million riders and 7 million drivers got the chance to enjoy its world-class features before the year 2018 came to a close. According to recent findings, Uber's worldwide net income is a staggering 7.5 billion dollars in the United States.
As a consequence of this, a good number of taxi aggregators depend on newcomers who are launching taxi booking applications. Before trying to construct a taxi booking app like Uber, however, one has to have a strong understanding of the business model and the technology that makes it possible. Therefore, let's go into the nitty-gritty of the procedures, business strategy, and infrastructure you need to consider while constructing an app similar to Uber.
What Are the Statistics and Market Size for Taxi Booking?
According to information made public by "Statista," taxi services in the United States only produced around $8.50 billion in 2022. The situation was virtually the same in countries similar to the United States. A potential business opportunity would be creating a taxi service comparable to Uber.
To start a successful taxi company in Florida, Tampa, or anywhere else in the United States, for that matter, you need not require a significant amount of prior knowledge or experience in the transportation sector. The only thing you need to be familiar with and ready for to start successful taxi service apps similar to Uber are the features of your smartphone app. Nevertheless, the number of customers you bring in is reliant on the amount of money you get to spend on marketing and sales.
What Are the Best Ways to Grow Your Taxi Booking Business? – Tips to Make It a Success?
Get a Customized Taxi App on Your Smartphone Today
Considering how reliant people are on their mobile devices, developing an app that allows customers to book taxis might be an excellent way to grow your business. Create brand awareness for your business by using taxi booking app development services and developing an app that is not only useful but also simple to use. The application provides quick access around the clock and keeps track of the total number of journeys done daily.
You'll be able to create your very own online taxi business with the assistance of this user-friendly software, and you'll be able to grow it as time goes on. It serves a purpose similar to insurance: protecting your investment and providing dividends. You no longer need to be concerned about adding experts to your staff to strengthen your business. Good software that caters to drivers and consumers is now required.
Maintain a Powerful Online Profile for the Purposes of Marketing
Obtaining a website that is both useful and aesthetically pleasing should be your top focus right now. Eighty percent of internet users have made a purchase online, and seventy-one percent anticipate saving money as a result of their online shopping. If your website does not have a booking feature, you are passing up a significant opportunity to increase your exposure to the public. When your firm's popularity is raised online and more prospective customers are drawn to your website, you may expect an increase in ride requests coming your way.
Increase the Loyalty of your Customers
When it comes to growing your business, having satisfied consumers is essential. Maintaining existing customer relationships is as crucial as searching for new ones. Offer incentives to your clients so they will always choose your taxi service over the other available options. It is essential to plan out discounts in the same way that you would plan out a rewards program for a credit card if you do not want to lose money.
The first or two trips a customer takes with a service are typically free, but the service's regular rates apply. By providing frequent fliers with special discounts, you may increase the likelihood that they will use your services more often. Customers who fit these demographic profiles are more likely to shop at a company that provides discounts specifically for them (such as seniors and students). You may also offer reasonably priced insurance protection to pique their interest further.
How to Start Uber-Like Online Taxi Booking Business?
Perform Some Market and Economic Research
Market research is not the answer if you are looking for a way to solve the problem of how to make taxi booking app like Uber. However, an economic analysis is necessary if you want your company to succeed.
There is a growing need for services that can be provided on demand. It is possible that having a more in-depth knowledge of your competitors, target market, prospects, financial risks, and potential future issues can help create solid judgements and lead to the delivery of services of better quality. If you have such in-depth information about your target market and the other companies in the industry, it won't be long before you start seeing a return on your investment.
It is mind-boggling how many cab booking applications are now accessible. Despite this, Uber maintains its position as the leader in the industry. Not a single company has successfully developed an app that can compete with Uber. If your app does not have some kind of standout feature that sets it apart from the competition, neither the customer nor the driver will have any reason to use it.
Companies such as Uber, which operate on a global scale, present unemployed people with an incredible opportunity. Because the parents of young children living in certain overcrowded cities would rather not spend their limited free time shuttling their children from one place to another, many of these parents use the ridesharing service Uber to transport their children to and from school. One of Uber's policies states that drivers are not allowed to pick up passengers younger than 21 years old unless there is an adult passenger in the vehicle.

It is essential to consider the consequences from a legal standpoint.
When deciding on a corporate structure for your taxi company and hiring taxi app developers, you typically have two alternatives: General Partnerships and a Limited Liability Company. General Partnerships have an organizational design that is very useful for businesses that wish to function on a small scale but only has limited resources. On the other hand, LLC is an organizational structure that, if adopted by a firm, would benefit a business that intends to service individual customers and enormous organizations.
Design and Development of a Mobile Application
Creating a mobile application need to be your top priority after the completion of all other tasks. Your Mobile App Based Taxi Booking Business has to stand out from the competition; therefore, you should think about asking your taxi app development team to integrate some features that aren't found anywhere else. Developing a mobile application consisted of conceptualization, wireframing, coding, quality assurance testing, and eventual publication.
Making a mobile app for taxi services from scratch is a relatively straightforward process compared to building an app with the capability of Uber. Uber uses three distinct mobile applications: an "admin" app, which is used by the company's administrators and executives, a "passenger" app, which passengers utilize, and a "driver" app, which the company's drivers utilize. If you are interested in employing expert app developers to build a taxi app similar to Uber, you may get in touch with web developers.
Important Features Behind Ride-Sharing and Taxi Booking App
Easy Procedure for Signing Up
This is the first point of interaction that users of your app will have with your company. The process of registering (also known as creating an account) has to be simple and straightforward. To begin, the user experience might be enhanced by permitting account creation using social networking sites such as Facebook or Google or simply by enabling users to sign up using the contact number.
Keep an option to Schedule a Ride. 
The ability to make a reservation for transport is an essential feature of applications that book taxis. It may be beneficial for passengers to make bookings for their journeys in advance. Many passengers like to plan their trips in advance so they may feel more at rest about the time their taxi will arrive. You can schedule your taxi journey in advance, which will give you more control over the timing of your arrival at your subsequent appointment and allow you to get a head start on your day.
Your product or service has to include this essential component. Users have the responsibility and the right to voice their ideas, even if doing so results in a critical review being posted. Keeping this option demonstrates that your service is trustworthy and open to customers' feedback. You may adjust your service in response to the feedback they provide.
Putting in Place a System That Monitors in Real Time
The real-time tracking system must be started as soon as a ridesharing request is approved to ensure proper operation. The Google Maps Application Programming Interface (API) embedded into most apps makes it possible to track the whereabouts of a motorist. Monitoring using GPS is useful because it lessens the possibility that riders would get disoriented or lost. This is especially useful in situations where a large number of participants are participating.
What Are The Best Choice of Technologies For Building Successful Taxi Booking Apps?
The selection of an acceptable mobile app development platform is a difficulty that must be solved by many businesses considering the production of a mobile application, whether it is for facilitating an online taxi booking solution or something altogether else. Android and iOS are the two operating systems with the most users, reducing the number of feasible possibilities to just two. On the other hand, there should not be an issue. Companies need to develop apps compatible with both platforms so that they may attract the most significant potential customer base. Some of the technologies used in Uber's backend taxi app development are:
Go

MongoDB

MySQL

Node.js

Python

Redis
Finding the Right Business Model for Make Profit on Investment?
Uber was the first company to use a type of business known as an aggregator successfully. The business idea was innovative in that rather than the partners (drivers) delivering their services individually, and they did it under the umbrella of the company's brand. To put it another way, Uber does not own every vehicle currently on the road. They can keep their jobs with Uber while still driving for their taxi companies. Therefore, partners are responsible for carrying out the service mentioned above. Nevertheless, Uber is accountable for ensuring that the highest possible service standard is always maintained.
Also Read: Native vs. Cross Platform: Decoding Best Option for YourMobile Apps
How Much Does It Cost to Create an Online Taxi Booking App Like Uber?
Acquiring a taxi is a necessary first step in the taxi booking app development process and creating a competitive taxi service with Uber. This investment represents the single most significant expenditure of financial resources. If you can get started with just one taxi car, it will be a substantial boost to your bottom line. If you can get started with more than one, even better. 
By decreasing the amount of money spent on an automobile, which is an expensive commodity, it is possible to release cash that may then be utilized to meet other essential coteries. You should prepare yourself for a taxi app development cost of anywhere from $10,000 to $16,000 for a taxi ride, with the exact amount depending on the model and age of the car you choose.
Conclusion
The number of apps that may be used to book taxis is rising every day. Your potential customers have several options available to them to choose from. Your taxi booking app may impact if you differentiate yourself from the other apps on the market by offering a more comprehensive service. If you have a capable technology partner who can help you with everything from selecting the appropriate framework to developing app launch strategies, taxi booking app development will be a lot easier for you.
Frequently Asked Questions (FAQs)
Get All the Answers on Taxi Booking App Development
The Uber marketplace is a roadway that goes in both directions. Riders provide the demand while drivers give the supply; Uber acts as a middleman by providing a platform that is uncomplicated and uncomplicated enough for both sides to engage with one another.
The native software provides a high level of security, in addition to an offline mode and a nice experience for the user. Hybrid applications offer several advantages, including interoperability across several platforms, high performance, and access to diverse hardware and software capabilities.
If you plan to run a taxi or cab service, you'll need a contract carriages to permit. Every few years, you must reapply for a license or permission. Insuring automobiles is also a need.
The cost to develop an app like Uber depends on various factors. Some main considerations include the app's features and functionality, the code's complexity, and the platforms you want to deploy it on. Generally speaking, developing an app like Uber can cost anywhere from $20,000 to $200,000.
When it comes to the taxi industry, there are many ways an individual or business can get involved. For example, you can become a driver, work for a company as a dispatcher, or develop and run your taxi service. If you're thinking about developing your taxi booking app, all these can help to launch your taxi booking app.
Want to Create a Taxi Booking App?
Get easy-to-manage, feature-rich Taxi App Solutions at Low Costs.
Your Trusted Tech Partner!
We develop digital products that enable you to embrace innovation and unlock opportunities.
Talk To Our Experts
Subscribe
Newsletter
Get our latest blog posts, research reports, and thought leadership straight to your inbox.