Industries
HOA Management Software Development for Real Estate Business
Introduction It is not easy to run a business efficiently as you need to look into every aspect. Hence, often the company falls prey to human error, fraud, and other…
14 December, 2022
5 minutes read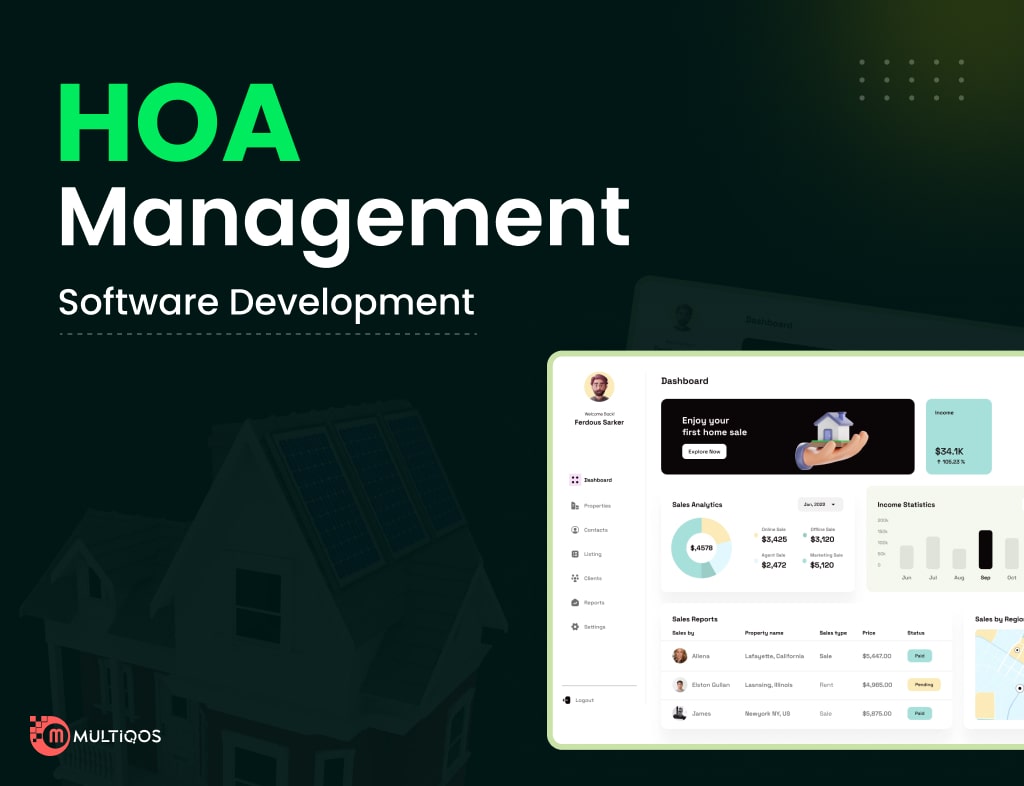 Introduction
It is not easy to run a business efficiently as you need to look into every aspect. Hence, often the company falls prey to human error, fraud, and other issues leading to a downward graph. Therefore, to get a perfect solution to evade all the problems of a business, you need to integrate the software for HOA management.
It is one platform where you will be in control of all processes in an effective way. The HOA management software automates all the business processes and streamlines them so everyone benefits.
Key Features of HOA Management Software
The following are some of the critical features of HOA Management Software.
Accounting and Bookkeeping
Accounting and Bookkeeping are one of the most important aspects of a business. It is because a business needs to keep track of its finances daily. If it is not supervised correctly, fraud and misappropriation of funds can occur. Keeping the daily accounting of a business is indeed a daunting task. Hence, proper financial management must keep your business on track.
The HOA management company software is ideal for any business as it evades manual accounting. You need to make the entries daily, and the software will do the rest. One of the most significant advantages of the software for HOA management is that it takes only a few minutes to take out any transaction. Moreover, unlike manual accounting, there are no human errors. A company can thus check the financial status of the business at any length of time.
It takes much work to create a financial report manually. But with the help of the HOA management software, you can make the financial report easily and fast. Moreover, due to its various features, you can also create reports according to the convenience of your employer.
Property management accounting software helps create simple and detailed reports with graphs and charts for a better understanding.
One of the critical features of the HOA software is that it is easy to use, especially for homeowners. The software has a member portal to log in with your credentials and access your accounts. Hence, it is an ideal way to keep track of your expenses and the due dates of the various bills.
Thus, it makes you self-sufficient as you do not have to depend on professionals to check your finances. It will keep you updated with all the necessary information.

Benefits of HOA Management Software Development
Manages All the Operations in One Platform
One of the reasons for the popularity of the Real Estate App Development Company is because of its multi-features. The members of the homeowner can use the HOA software to communicate easily with the residents, create invoices, and schedule maintenance work according to the requirements.
It makes the entire system organized as all the activities are done on time. Moreover, each of the minute details is stored so that at any length of time, there is no confusion. Therefore, you can do everything according to the plan.
One of the key benefits of the HOA software is that it keeps everyone down the line. Issues may arise if the notifications are not sent on time or if someone still needs to receive them. It leads to utter chaos due to miscommunication among the members.
However, with the help of the HOA software real estate CRM, notifications are sent on time, and it helps to resolve the issues instantly.
Keep Your Property Manager Happy
Manual work is now a past as everything has become digital. Moreover, you can skip filling up forms and other paperwork. Thus, HOA software saves your time and energy, and at the same time, the work is done faster and more efficiently. The HOA software streamlines all the processes in an organized manner, thus making your property manager happy.
It will allow the members to concentrate on other essential processes rather than finding where the mistake occurred. Thus, the HOA software helps in higher productivity in less time.
A Better Experience For Residents
It is common for everyone to find a place of residence where the ambiance is friendly. However, only a few get what they need and, in the process, witness just the opposite. Thus, it leads to several complaints that take time to handle. The HOA software streamlines the entire process so that you can manage the situation effectively.
You can use the HOA software effectively by scheduling various events and other activities for your residents. It will thus satisfy your residents, which can be your most outstanding achievement.
Also Read: How To Develop a Real Estate App Like Zillow Or Trulia in 2023
Steps to Develop HOA Management Software
Real estate management software development is a research-oriented task. You need first to decide your goals and how you will be able to keep track of all your homeowners and, at the same time, offer them the best. Following are the steps to develop HOA Management Software:
Decide the Nature of Your Business
Before you develop HOA management software, you must decide on your business's nature. Whether you need the software for a property management system in a hotel or property management software for a small business depends upon the type of business. Once you are sure, you need to define the functions.
Determine the PMS features
It would be best if you defined the functions of your business so that you can develop the software according to your needs. There are various core features of your business that you need to integrate, like online payment options, accounting, lease tracking, and similar areas.
Hence, you need to take the services of a Mobile App Development Company in Philadelphia to customize your system according to your requirements.
If you want your system to work according to your requirements, you need to hire the best mobile app developers in their field of business.
They will guide you in creating the best HOA software for your real estate business. Moreover, you will also be able to keep your software safe and secure, away from bugs.
Also Read: How to Build a Real-Time Bidding Platform in 2023
MultiQoS Expertise In the Real Estate Industry
To enhance your real estate business, you must customize your website or mobile app according to your requirement. Hence, you need to use MultiQoS expertise's help to get the best. MultiQoS offers the best real estate app development services that can help your business grow.
It is because the company will offer you innovative ideas so that you stand out among the rest in the line of competition. The company provides the best solutions and the latest features in the app so that you stay updated with all your business details. The company offers the best mobile app development for real estate.
Bottom Line
Therefore, if you want excellent transaction management software for real estate, you need to hire best real estate app developers. They can offer you the best solution to enhance your business. It is a win-win situation where the members of the HOA and the residents must be satisfied. Moreover, with the help of HOA software, you can stay updated with all your business details.
Frequently Asked Questions (FAQs)
FAQs on HOA Management Software Development
HOA stands for Home Owners Association, consisting of individual houses, high-rises, or houses in a locality.
The main motive of HOA is to provide services to the residents of a community so that they enjoy their living.
No. However, if you become a member of an HOA, you will enjoy various benefits. There is no compulsion to join HOA. But you must take their services if you reside in a house under HOA.
The cost of an HOA depends on the area you live in and the services they provide. It ranges from a few dollars to a hundred.
HOA software is a package that helps HOA members to carry out their work effectively and efficiently, and the result is done faster without any errors.
HOA software is a customized application. If you include all the features, the cost will be more, and hence, the price differs according to its features.
Want to Boost Your Real Estate Business With Mobility?
Please send us your inquiry, and one of our executives will be in touch with you shortly.
Your Trusted Tech Partner!
We develop digital products that enable you to embrace innovation and unlock opportunities.
Talk To Our Experts
Subscribe
Newsletter
Get our latest blog posts, research reports, and thought leadership straight to your inbox.